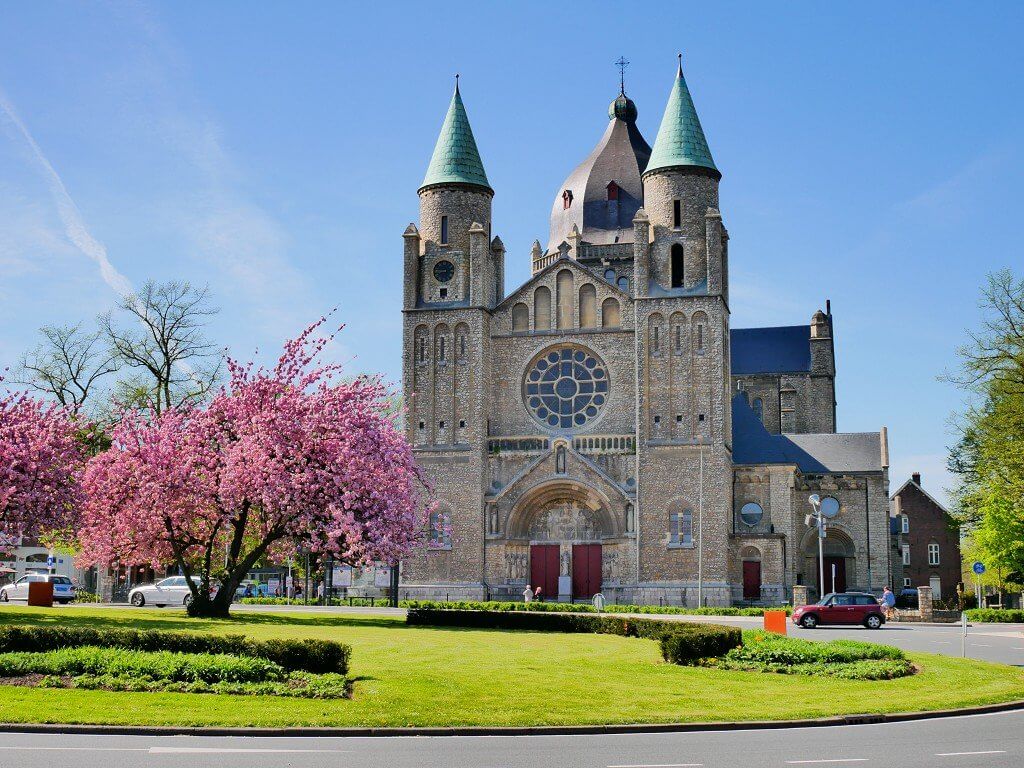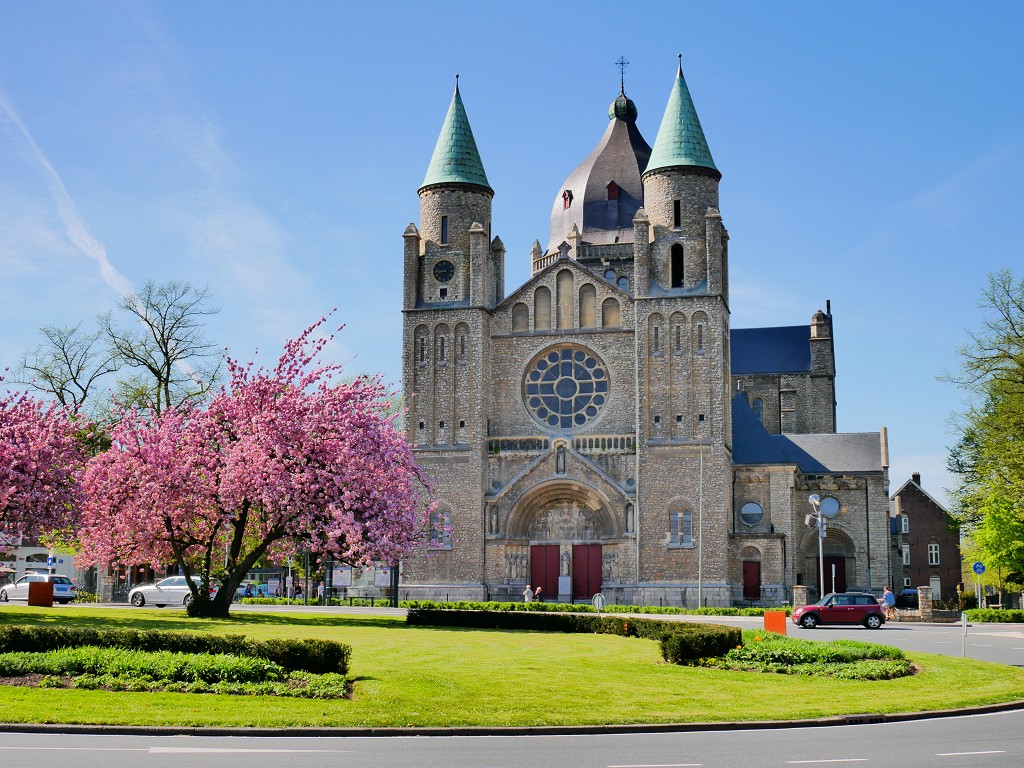 You might already know that I've lived in Maastricht twice, both times as a student. To be precise: from summer 2010 till winter 2013. I returned to the city from January till December 2018 to finish my bachelor's degree and write my thesis about hitchhiking. Especially the second time around, I focused my efforts to do more wholesome activities amid the fraternity noise and anxious binge-drinking students with quarter-life crises. Here are my suggestions for both residents and people on a short visit:
How to Get Around Maastricht?
The two best ways to visit Maastricht are on foot and by bicycle.
People who arrive by car usually have to drop it at one of the few underground parking spaces to actually see something of the city. Parking on the street is rare and quite expensive. Many people also opt to arrive in Maastricht by train. The station is on the east side of the Meuse river.
Many activities and places mentioned in this article are perfect for a bike trip. If you're staying in a hotel, make sure to check whether yours has a (free) bike rental. Most of them will have this service. If not, you could get an OV-fiets at the train station for €3.85 per 24 hours, though you'll need to already have an OV-card. My advice is to book accommodation with bike rental included. If you're staying in Maastricht for a longer period of time, get a Swapfiets.
Maastricht is a very snappable city with old buildings and cobbled streets. Cobblestone streets mean you'll need to wear sensible shoes for your visit. Over the years, I've seen quite some people break their heels, sprain their ankles, and get swollen feet. I hate to see you struggle, so please take my advice and wear flat shoes with toe protection and good grip. The sidewalks in the city have a curb that gets very slippery when it rains.
Maastricht in Spring
20 March till 20 June
Photographing the Blossoms
During spring, Maastricht has a few places with very nice blossom trees. I'm not completely sure what kind of trees they are, but my guess is plum. They usually bloom around the end of March and the beginning of April. The trees are everywhere in the city, but the most picturesque one is at the roundabout of Koningin Emmaplein.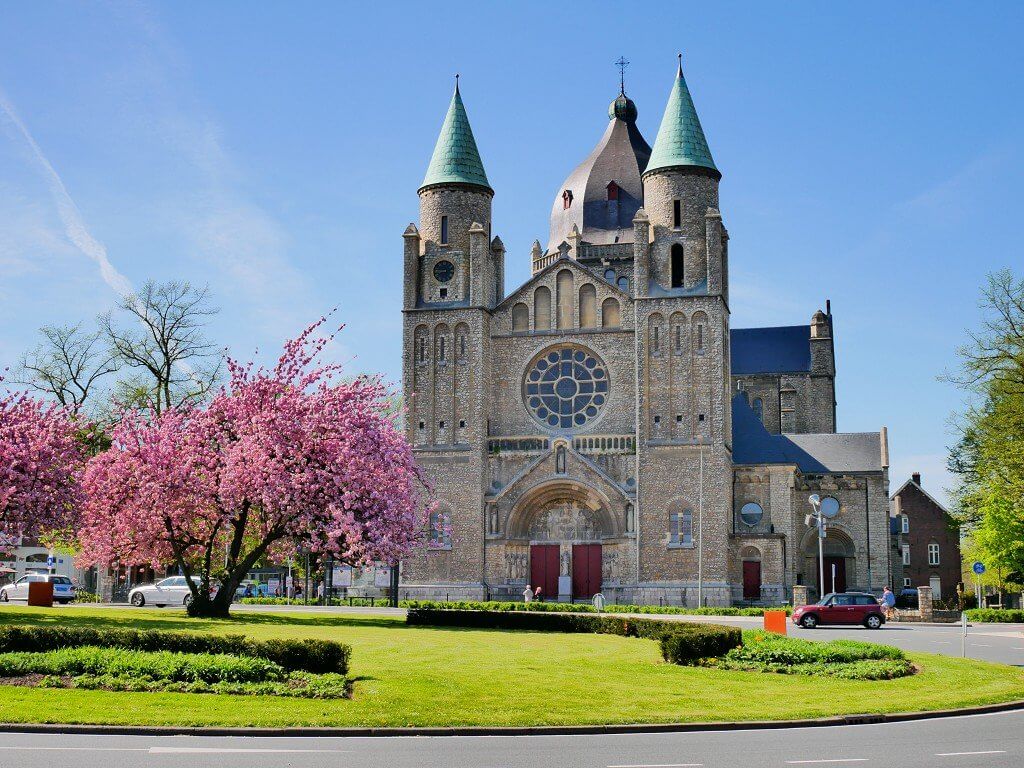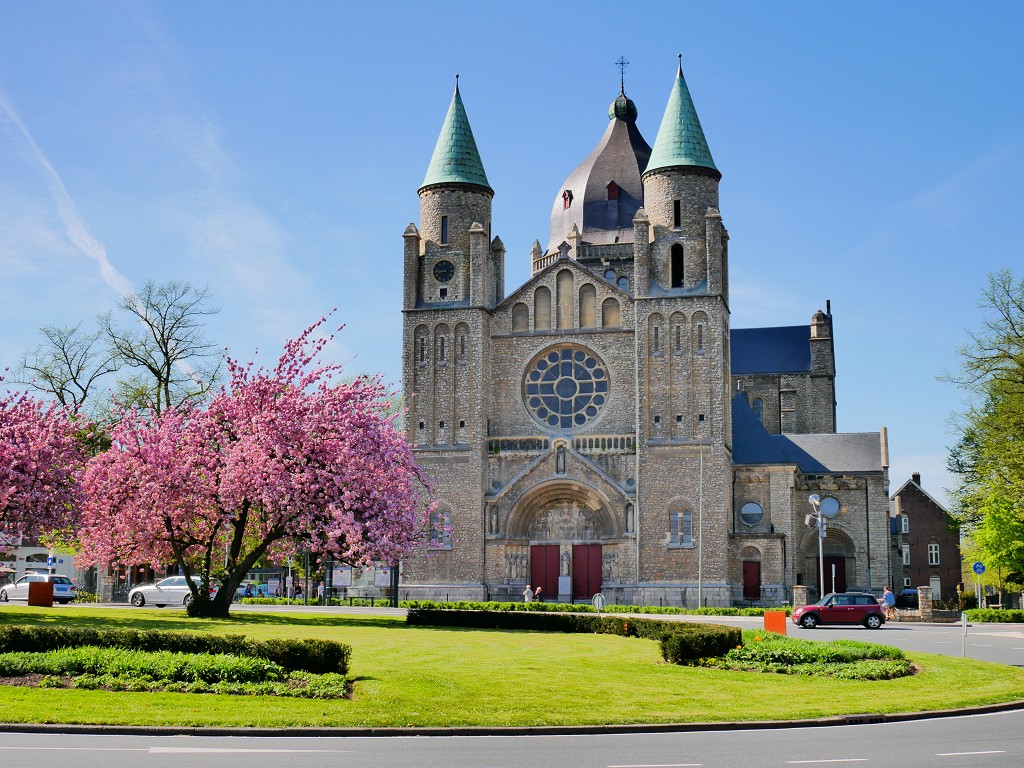 A couple of weeks later, the streets are filled with biodegradable pink confetti. If the days are dry and windy, you'll see the heaps of pink migrate away from its source and between the cobblestones.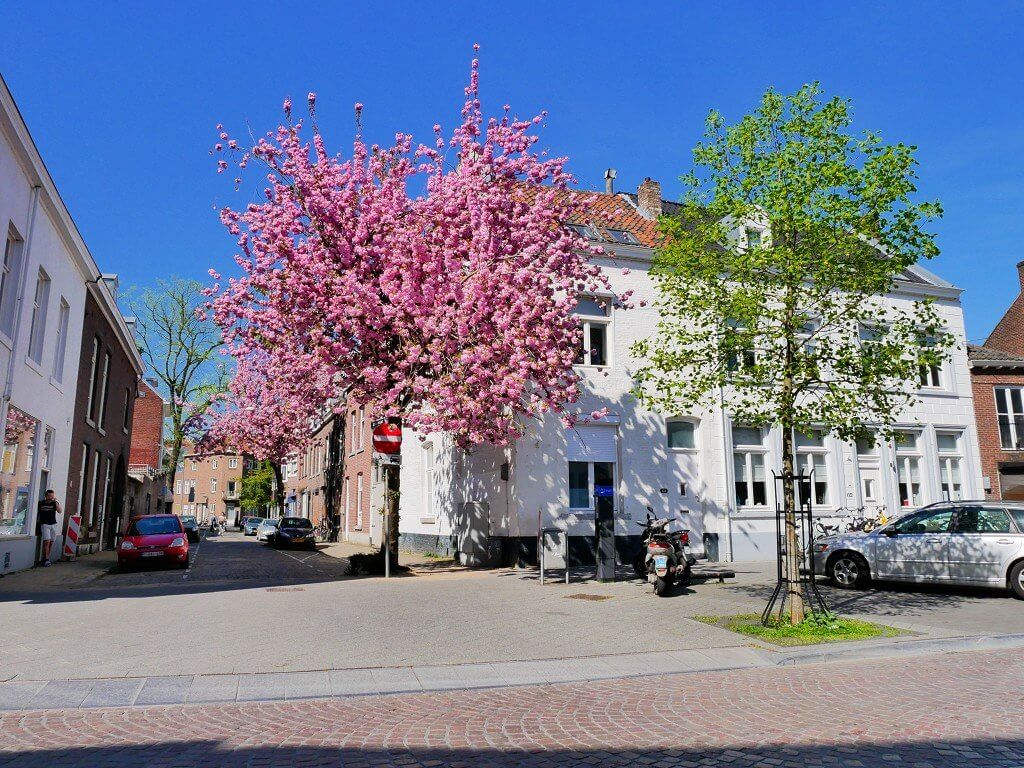 Cycling to Belgium to Drink a Wheat Beer
Once the days get a bit warmer, it's nice to take a bike trip a bit further away. As the borders to Belgium is only a five-kilometer pedaling journey away from the city center. Both Belgium and the Netherlands are Schengen, so there's no obstacle to cross the border other than cycling a bit uphill.
The nearest town in Belgium is called Veldwezelt. Frugal students that can't afford to live in Maastricht rent a space here. Belgium is in many regards quite a bit cheaper than the Netherlands. Where you'll easily pay €5 for a half-liter wheat beer at any pub in Maastricht, you'll only pay €3 for the same quantity in this town in Belgium. And Belgian beers are tastier too!
In 2018, I mostly went alcohol-free so that I could focus on finishing my studies. The few times we did drink beer, Jonas and I cycled to the nearest pub across the border in Veldwezelt called Belvedere. The place is a total dive, but exactly the type of place that emanates the post-industrial gloom and decay of the passed-up working class; it's the honest, pure-hearted, people-who-forgot-how-to-smile Belgium.
Drink a beer, not more than two, and then carefully cycle back to the Netherlands or better yet: walk beside your bike until you've sobered up.
Getting Food at Cato by Cato
The hungry masses of Maastricht University have one true savior: the dude that runs Cato by Cato.
He's well-traveled, has kind eyes, and some very big spoons. Affluent students with dietary restrictions pretending to live on the breadline get fed here by this man who looks like he has life sorted out and is possibly financially independent. Arrive before noon to not queue for too long and have all the choices. Then get a huge portion of the tastiest and wholesomest take-away food imaginable.
For just €5.50, you can get a big box of food to share with a (trusted) partner. You can pick two bases and two toppings and you'll both be full. If you're going by yourself, it's good to get the small box for €3.50. It mostly caters to students, but any person is welcome to get a box full of goodies. I recommend eating at one of the two benches at the mill behind Cato by Cato.
Most of the time, the packaging is also made of biodegradable materials. Many students opt to take their food to the library or eat it standing after heating it with the microwave in the business.
Finding Cato by Cato can be a bit tricky; there are no signs on the outside of the building to announce its presence, and if you look through the window it looks like an antique shop. The owner told us that there used to be a sign, but that the neighbors started complaining about the long lines of interested folk for an obviously bomb-ass business model. OK, boomer.
Maastricht in Summer
20 June till 22 September
A Guided Tour of the North Caves
In the hot summer, it's nice to escape into Maastricht's cool cave system. Near the Sint Pietersberg, there are sections that are visitable with a tour. We booked a spot and joined the North Cave tour and paid €14.50 in total for two people.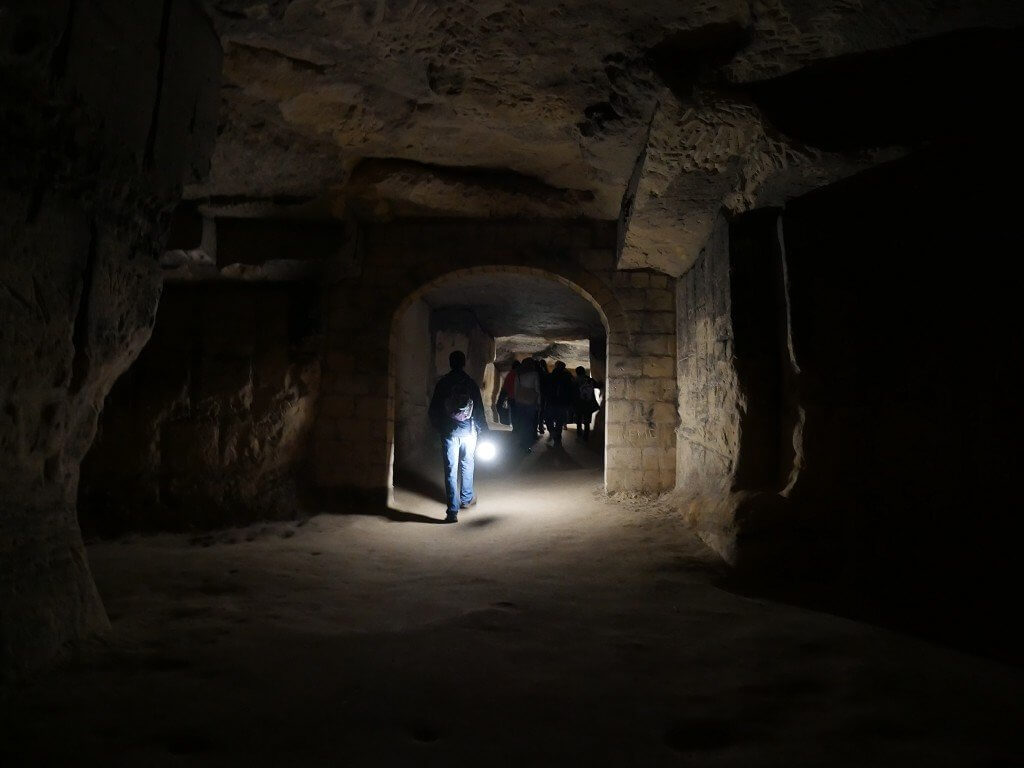 These caves are man-made, which started back in the 13th century. Originally, they were used to mine marlstone, limestone, and chalk for construction purposes. During World War II, it was a storage space for valuable items. Today, it's a tourist attraction with lots of cool underground drawings and a small Belgian chicory farm, which is a veggie that grows in the absence of light.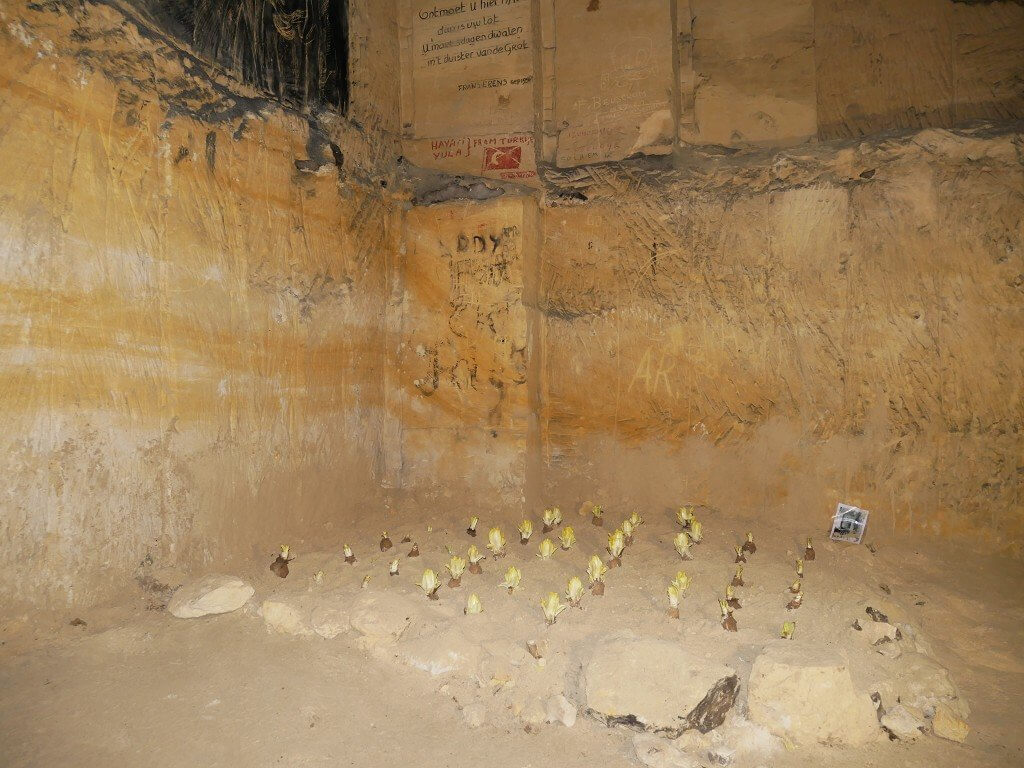 The cave system is absolutely humongous, so stick to your guide. You'll make a stop at this partial map of the cave system, just to get an idea of the more than 300-kilometer long tunnel system. Make sure your phone has enough charge to use the flashlight or bring a flashlight/torch if you want to be self-reliant on not tripping over anything.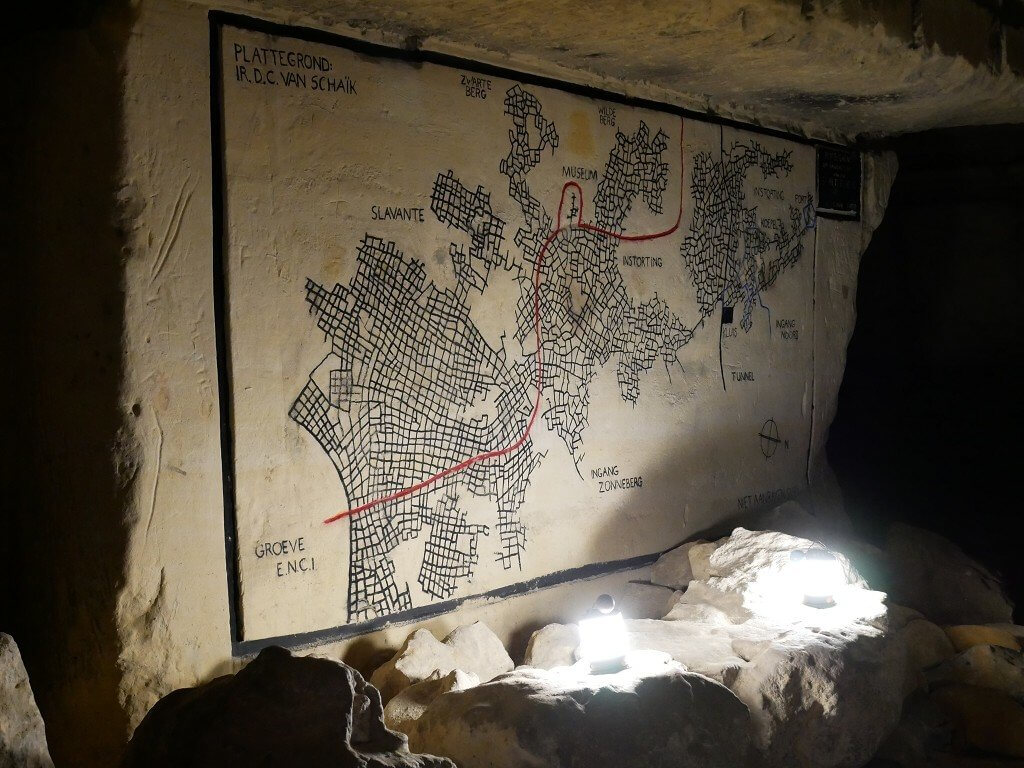 The 'Maastrichtian' is a geological age right before a (probably asteroid-induced) mass-extinction event. The Maastricht Formation used to be a sea. The quarries and caves are full of fossils from that time, including the majestic Mosasaurus, of which you can spot a skeleton at the Maastricht Natural History Museum. In the cave, there's an artistic scene of prehistoric life, including a mammoth co-existing with non-avian dinosaurs (which never happened).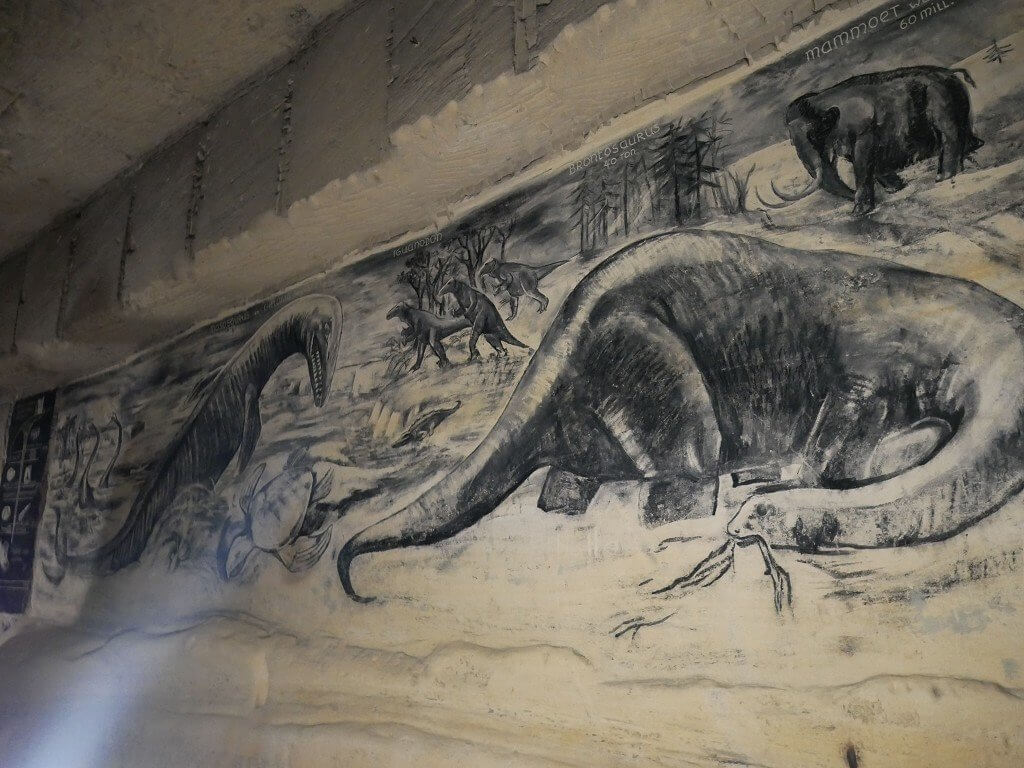 Cycling or Hiking around Sint Pietersberg Round I: D'n Observant
All that digging in caves and quarries moved about a lot of material. Southward of the caves and quarries is an artificial hill called D'n Observant. At 170 meters high, it's pretty much the highest point in the area. It's really close to the border with Belgium to the south and you can spot the river Meuse (Maas) through the trees. The quarry tunnel system used to pass under here, but it has collapsed due to the weight of the added soil. They had to plant lots of trees and bushes to prevent landslides.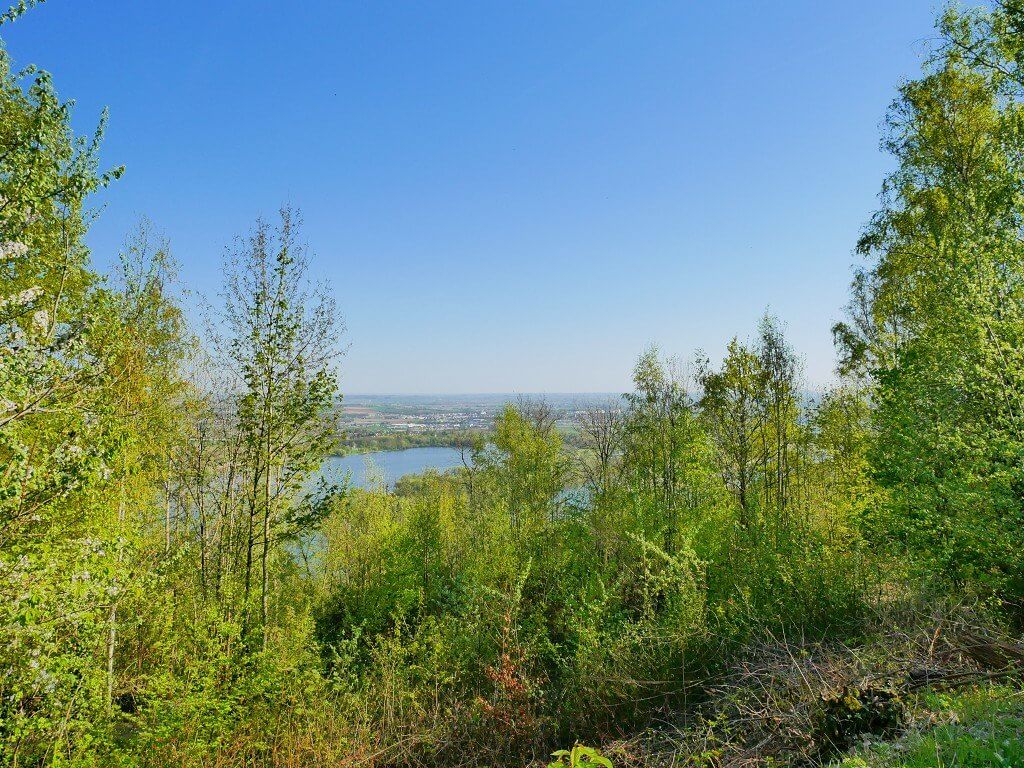 It's a little bit out of the way of the usual path and some people can't manage to find the peak. Even in summer, chances are low you'll encounter many people. At the summit, they've built a five-pointed star out of caged rocks as a reference to the weapon of the city.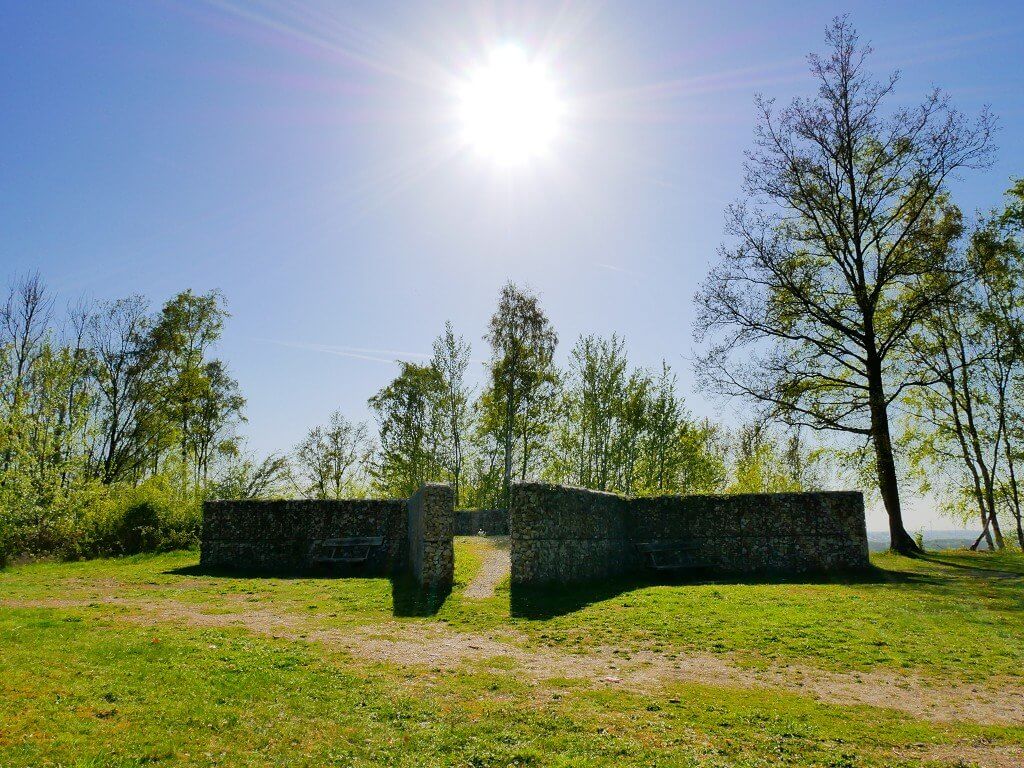 Getting up there is best done by cycling as far as your bike can do it and then continuing on foot. It's very hilly, so having gears on your bike will make things easier. The path to the summit can be a bit of a struggle for thin bike tires. There are stairs on one side of the summit, so it's best to park (and lock) your bikes there. At the summit, there are nice benches to take a rest and enjoy the view. Make sure to test your brakes before you roll downhill on that bike.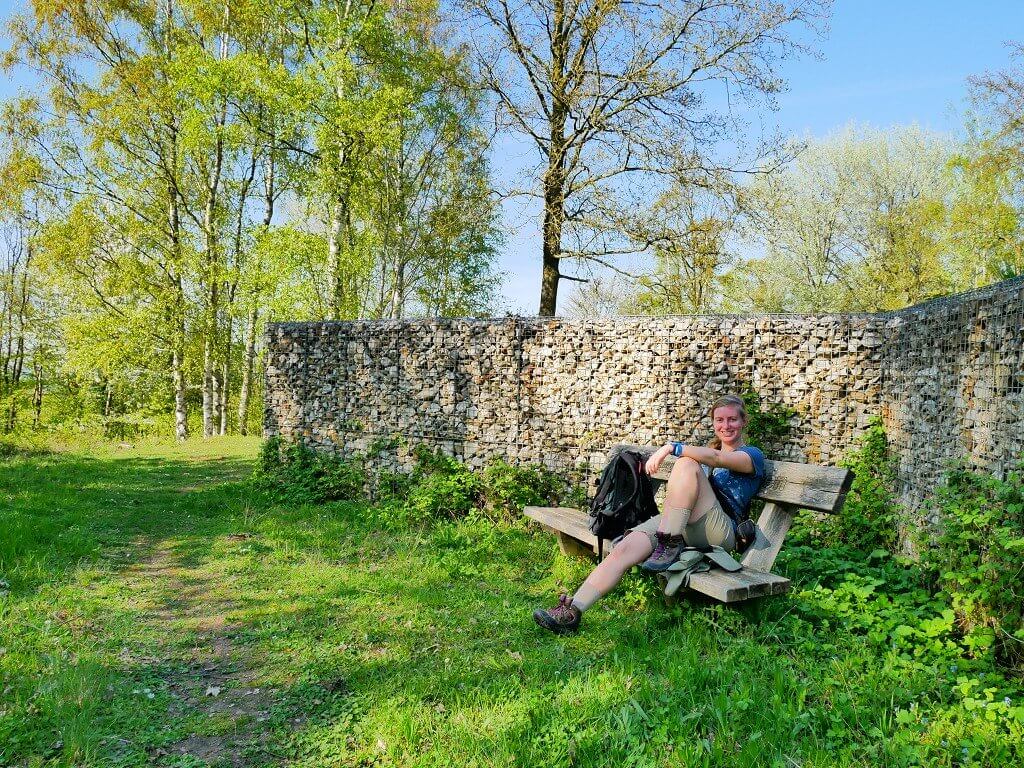 Having a Picnic at Hoge Fronten
Hoge Fronten was very close to my home in Maastricht, so I visited here throughout the seasons. But summer is still when it's nicest to visit this city park. It's an old fortification system part of the city wall. But today, it's a very nice spot to have a picnic in summer.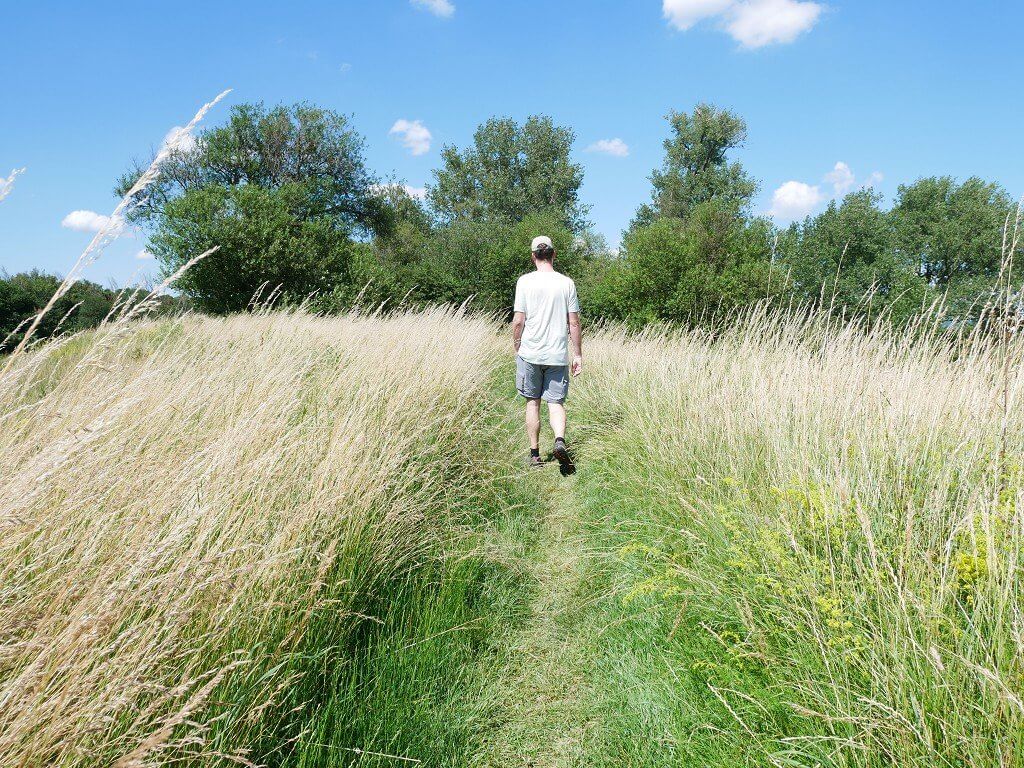 Just bring a plaid, some drinks, and prepare some food for a lazy afternoon spent in the summer breeze. My recommended food is tabouleh, which you can get ready-made at Albert Heijn, Aldi, or Jumbo. Just make sure to take your trash back home once you're done.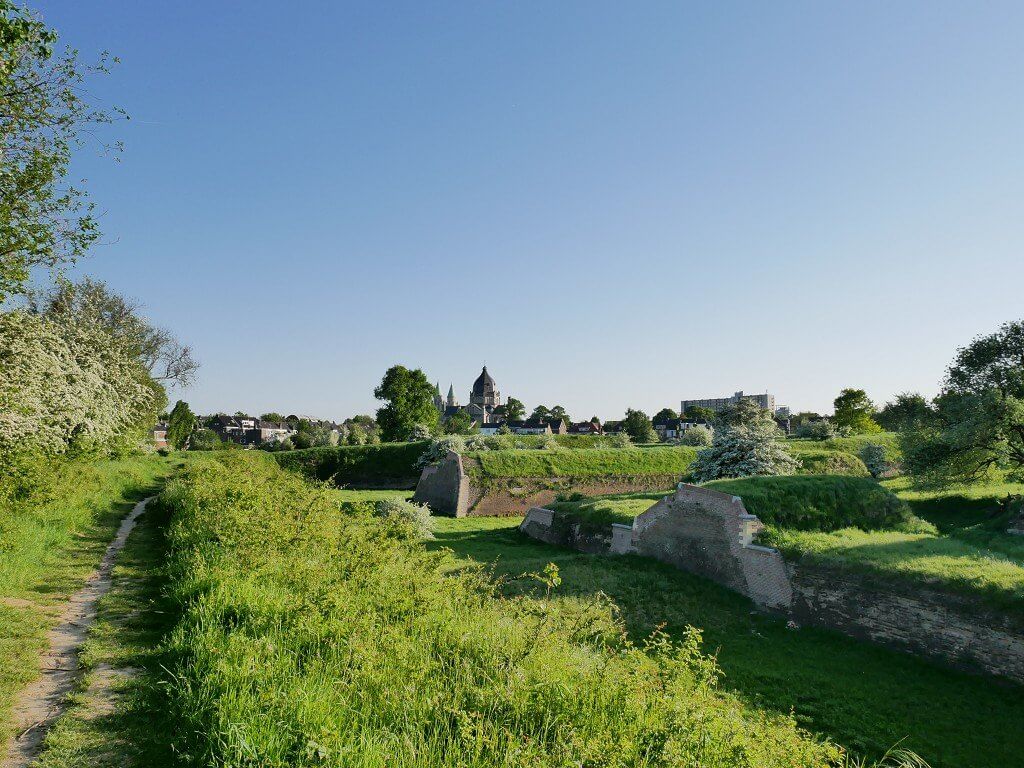 It can get pretty busy during the summer holidays (11th July till the 23rd of August in 2020), especially on the weekends. As always, it's best to visit on a weekday. The summer days before and after the holidays are the perfect sweet spot for uncrowded relaxation with a podcast and some iced tea.
The old fortification consists of about three levels to walk over, which zig-zag a lot. This means there's a chance you'll get lost in the area. The first few times, I either returned the way I came or hopped over a fence to make it a round trip. To keep things wholesome, don't enter wherever there's a sign that asks you not to walk over the sometimes fragile ecology.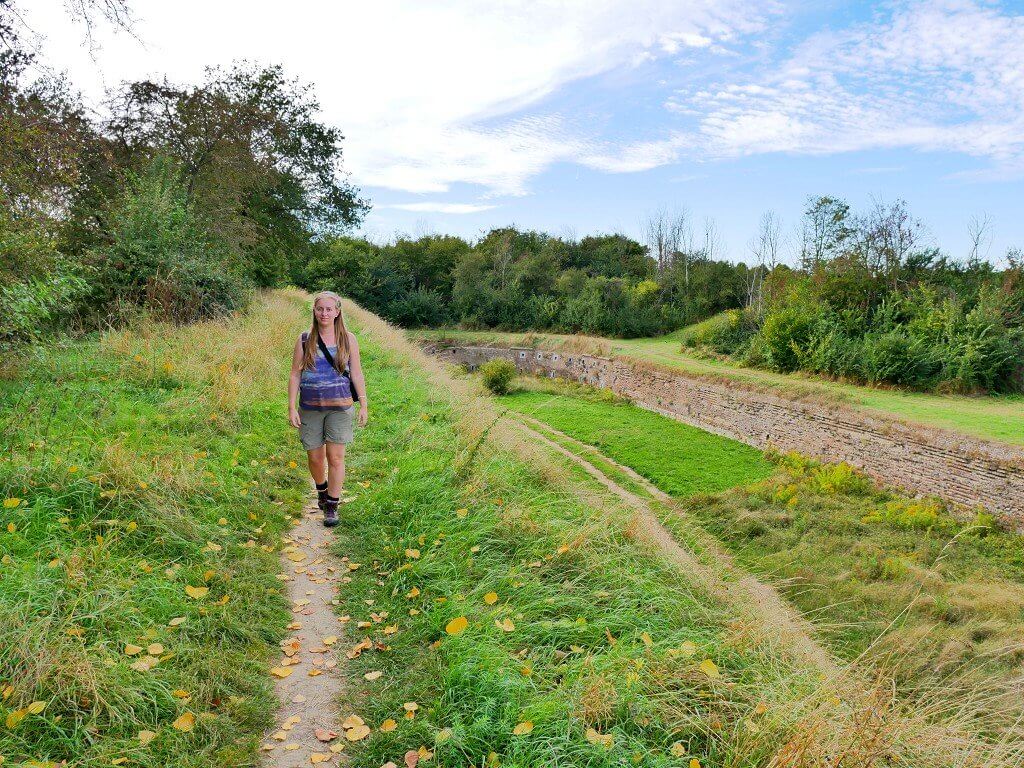 Maastricht in Autumn
22 September till 21 December
Going up the Sint Janskerk Tower
I'd never set foot in this iconic church in the whole first three years I lived in this city. One day, Jonas and I walked past it and saw that it's actually possible to go up the tower. So we planned a day where we'd go up the 218 steps to the viewing platform.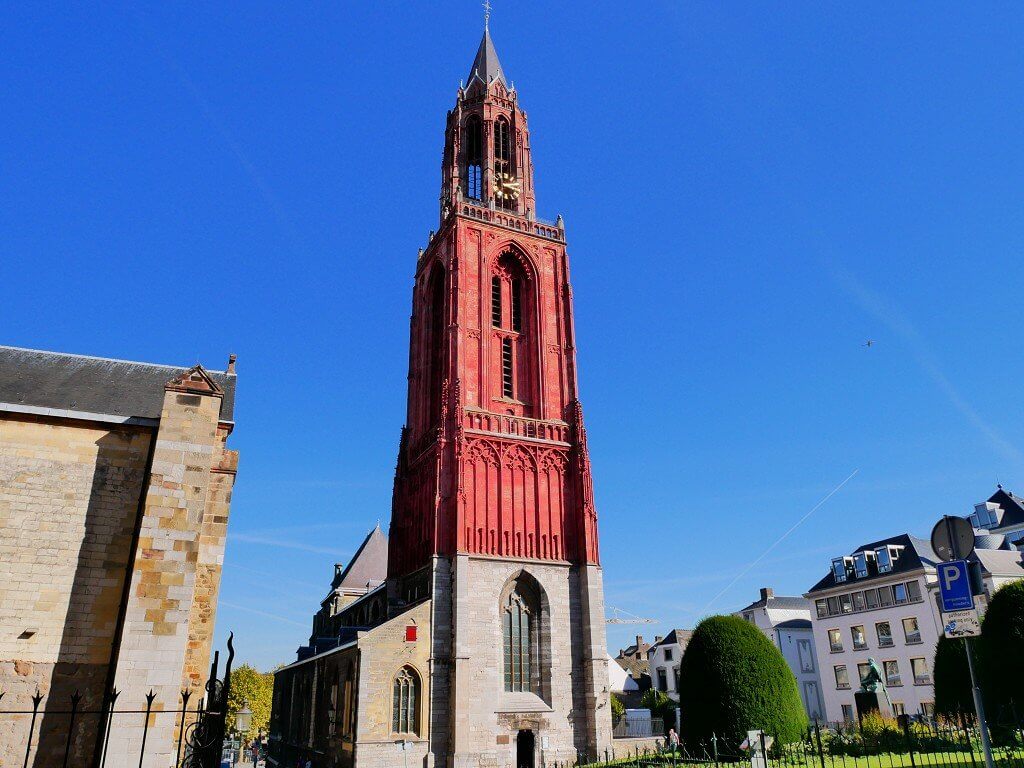 We found out online that access to the tower is limited to spring, summer, and autumn. We visited the tower on a weekday in the last week before it closed for winter. This had the added advantage that there were almost no other visitors. Oh, and the leaves were also turning.
From the viewing platform, you have a beautiful panoramic view of the city nearby and afar. Next to the protestant Sint Janskerk is the Roman catholic Saint Servatius basilica. You'll also look down on the ant-sized people on the perpetually-busy Vrijthof square. There are signs all around the viewing platform to help you discern the nearest buildings.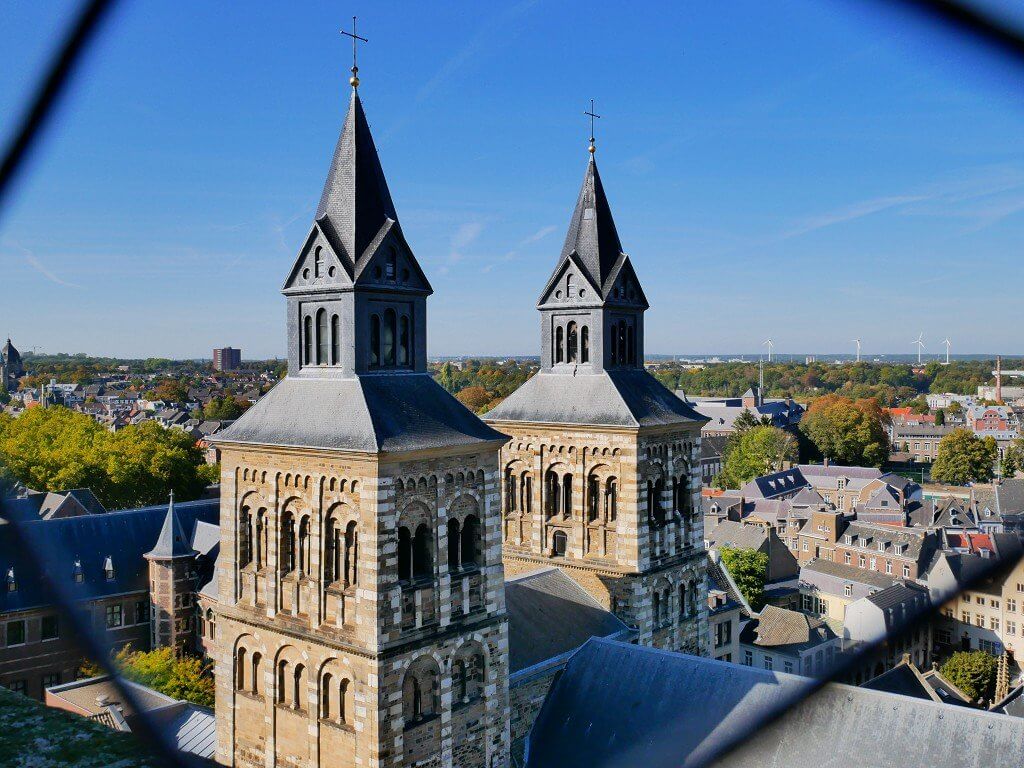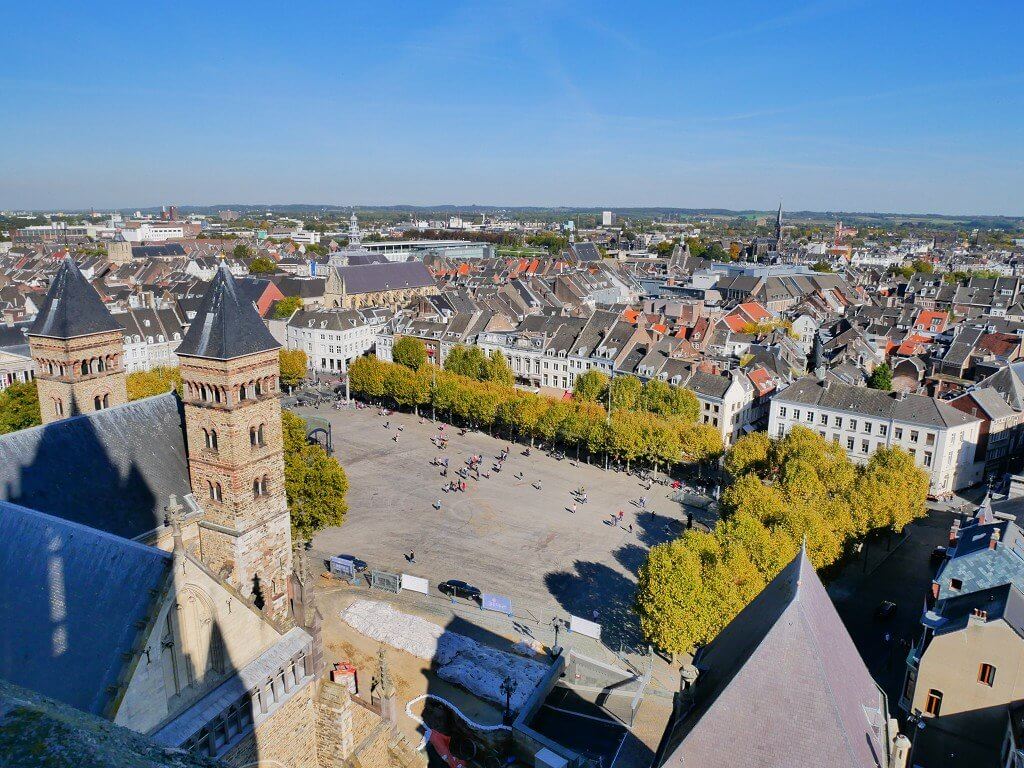 Far away, you'll see several faculties of Maastricht Unversity and the Saint Pietersberg area, including the D'n Observant hill. In other directions, you'll be looking at Belgium.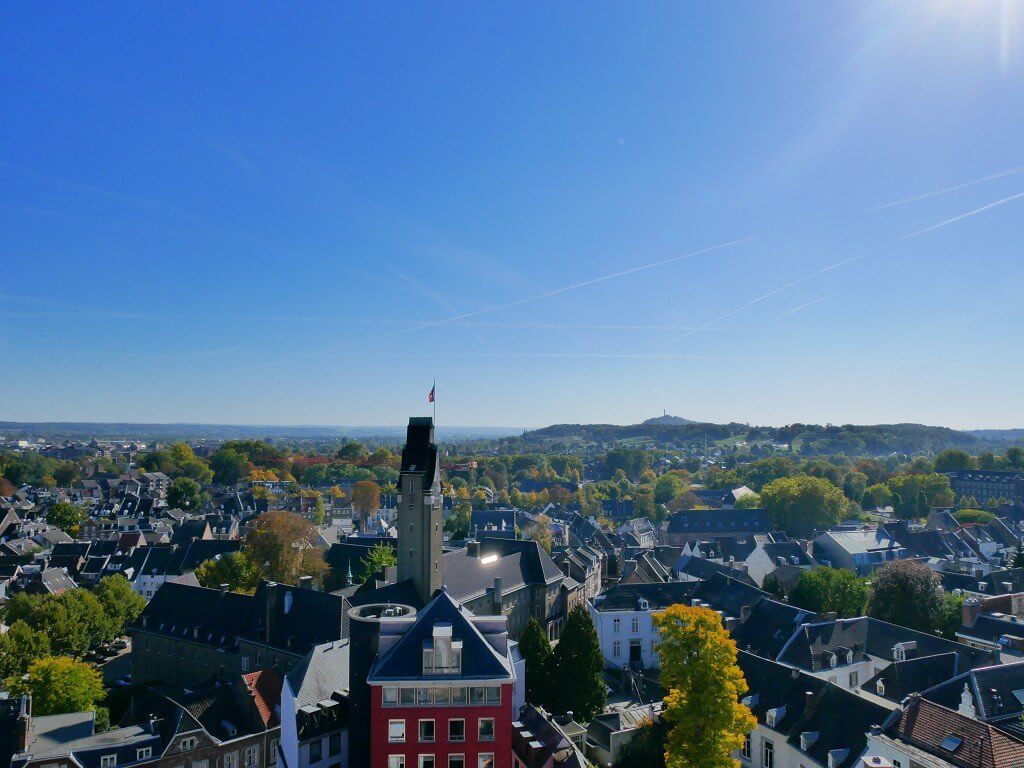 Getting up there requires you to go up some narrow spiraling stairs. That's why it's best to visit in autumn when there aren't many other people going up the tower.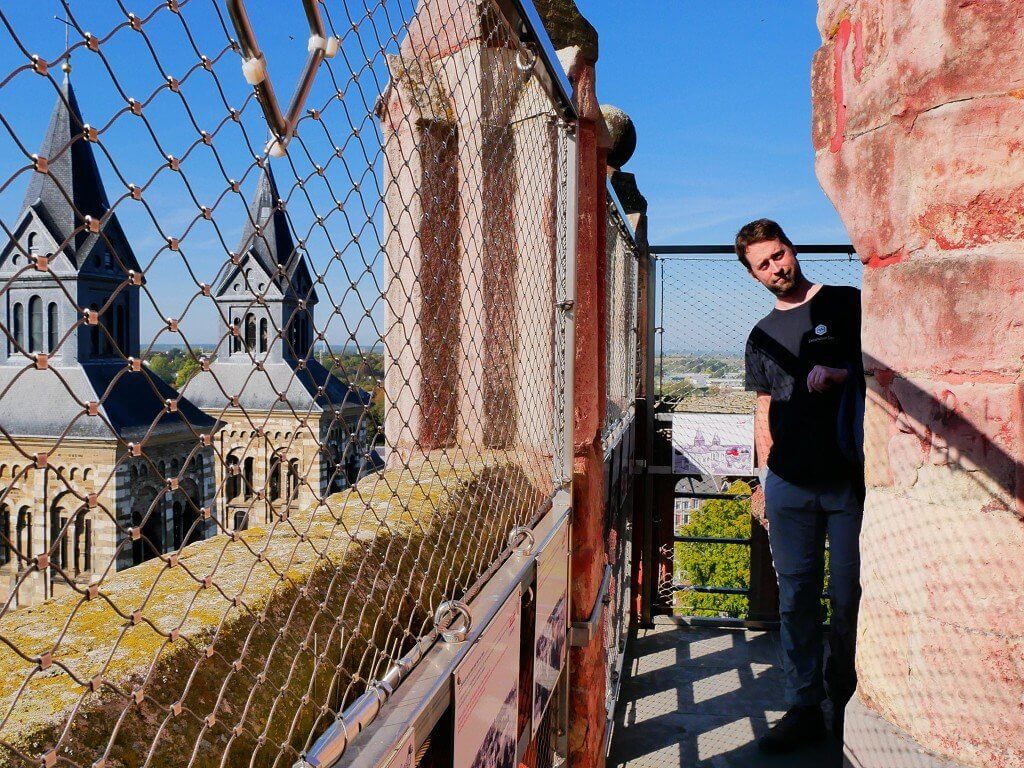 The interior of the church is pretty unadorned, which is typical for (Dutch) protestant churches.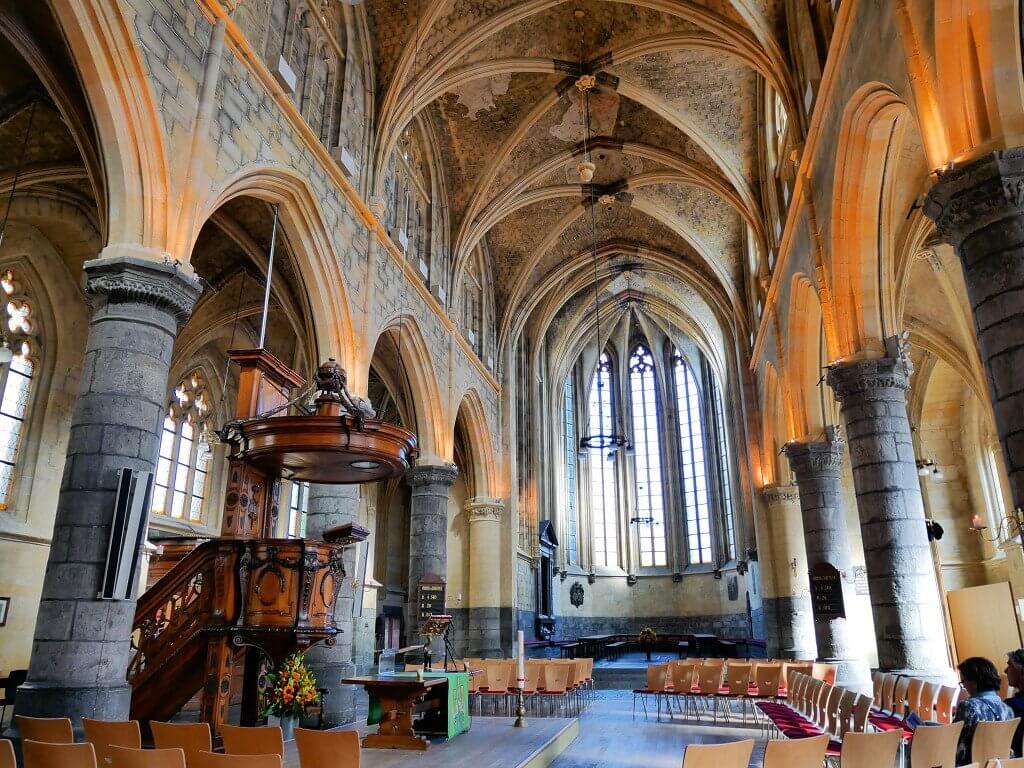 Access to the tower: Easter Saturday (18th of April in 2020) till the last Saturday of the Autumn holidays (that's the 24th of October in 2020). Monday till Saturday from 11:00 till 16:00 (closed on Sundays). Access to the church is free of charge and going up the tower is €2.50 for adults. Every Sunday morning at 10:00 there's a church service which visitors may attend.
Seeing the Sheep Munch at Hoge Fronten
Yes, we're back again at Hoge Fronten, autumn edition. In autumn, the municipality employs an army of sheep to cut down and digest the vegetation. This is how they protect the landscape.
They protect the sheep from the humans and their dogs with electric wire. Almost every day, they move the fencing to let the sheep eat up a different part of the area.
The sheep are much better at mowing down the overgrown post-summer vegetation. They can reach the difficult corners of the old fortification system.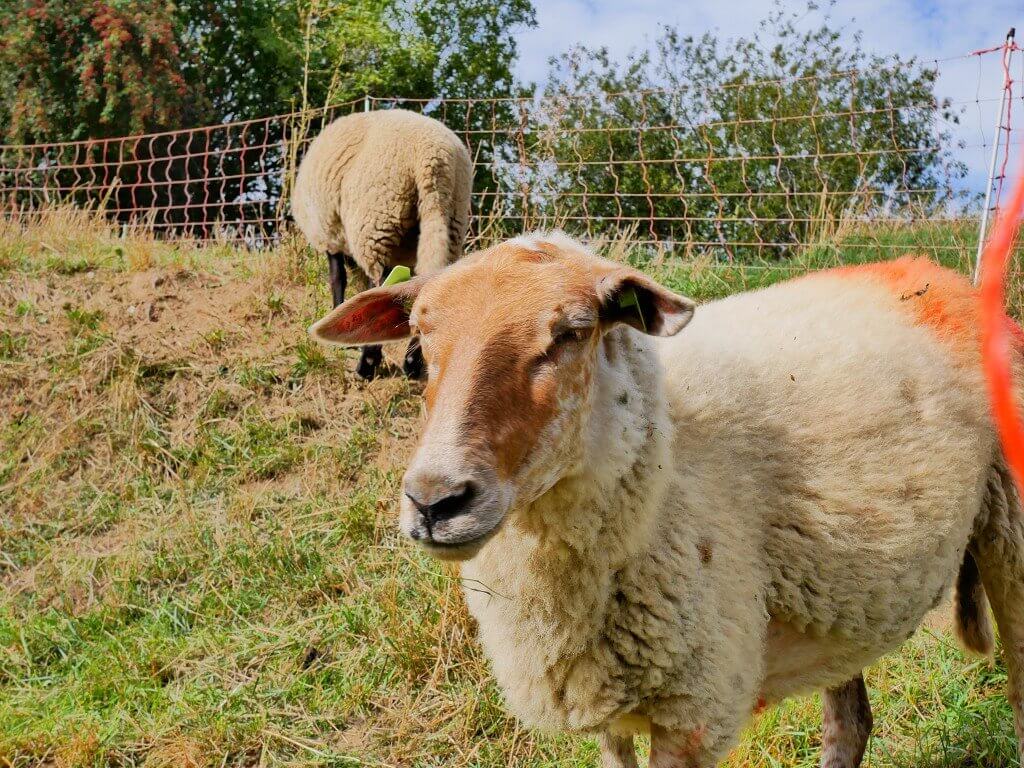 Needless to say, this makes a picnic not a good idea anymore unless you choose to sit on one of the few benches. But there are more reasons to visit this park in autumn than just the sight of sheep.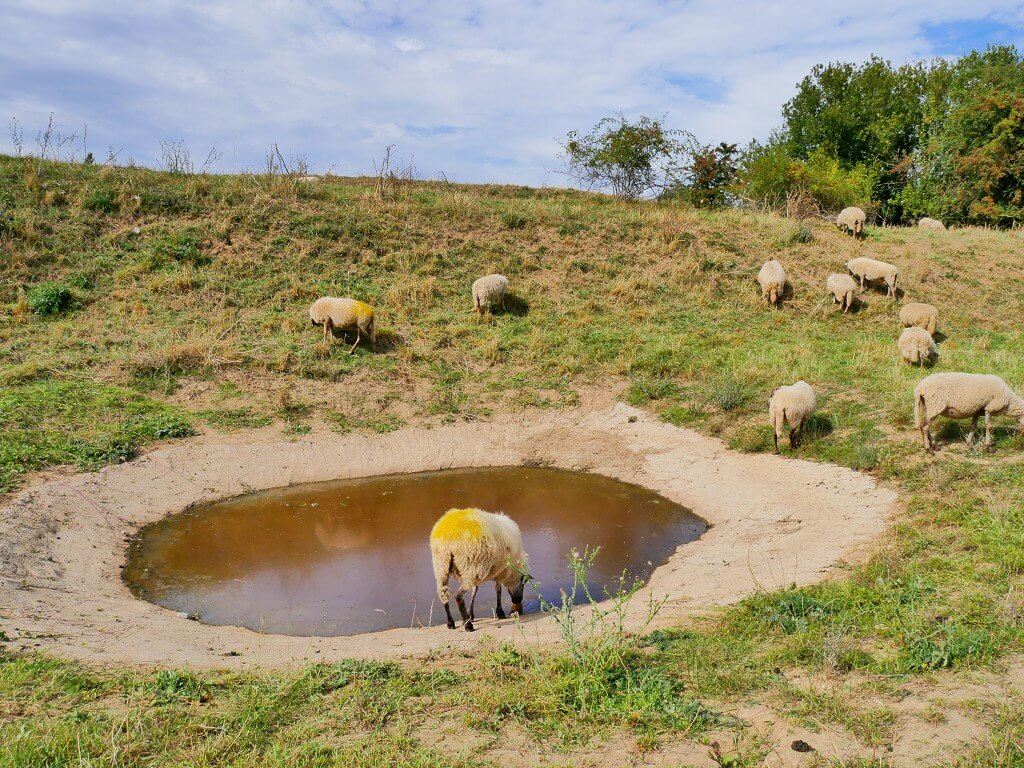 The leaves also turn beautifully in the park and the surrounding areas. If you're lucky, the blackberries will be edible.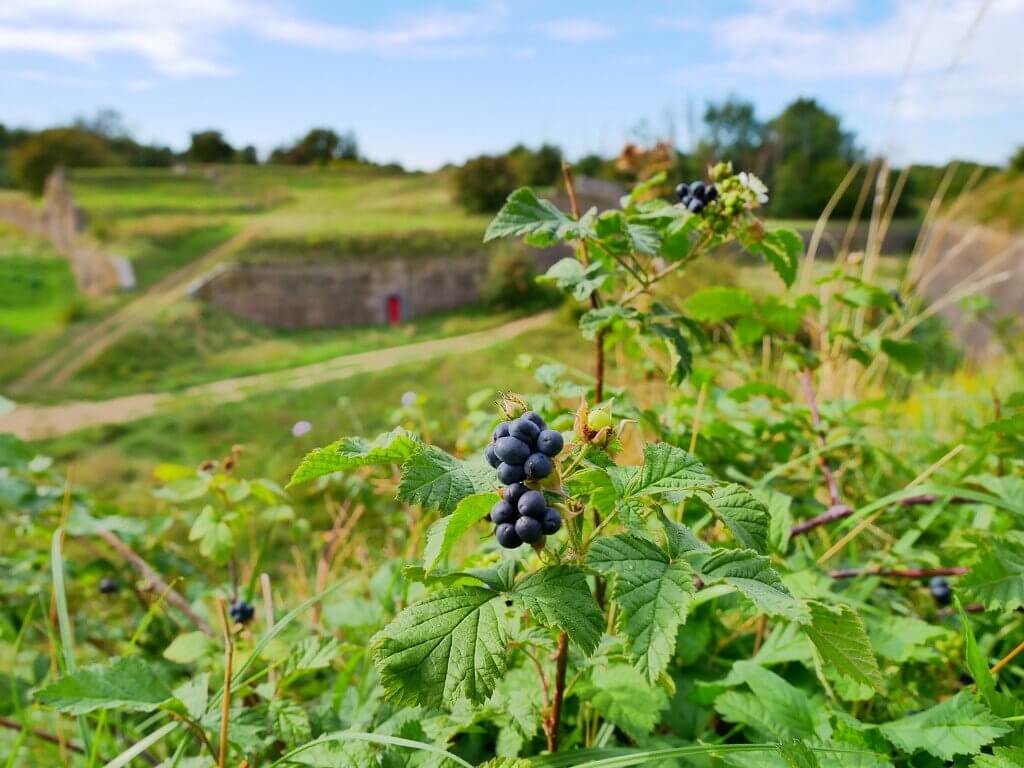 Don't eat the berries that look cool in pictures but you otherwise can't identify.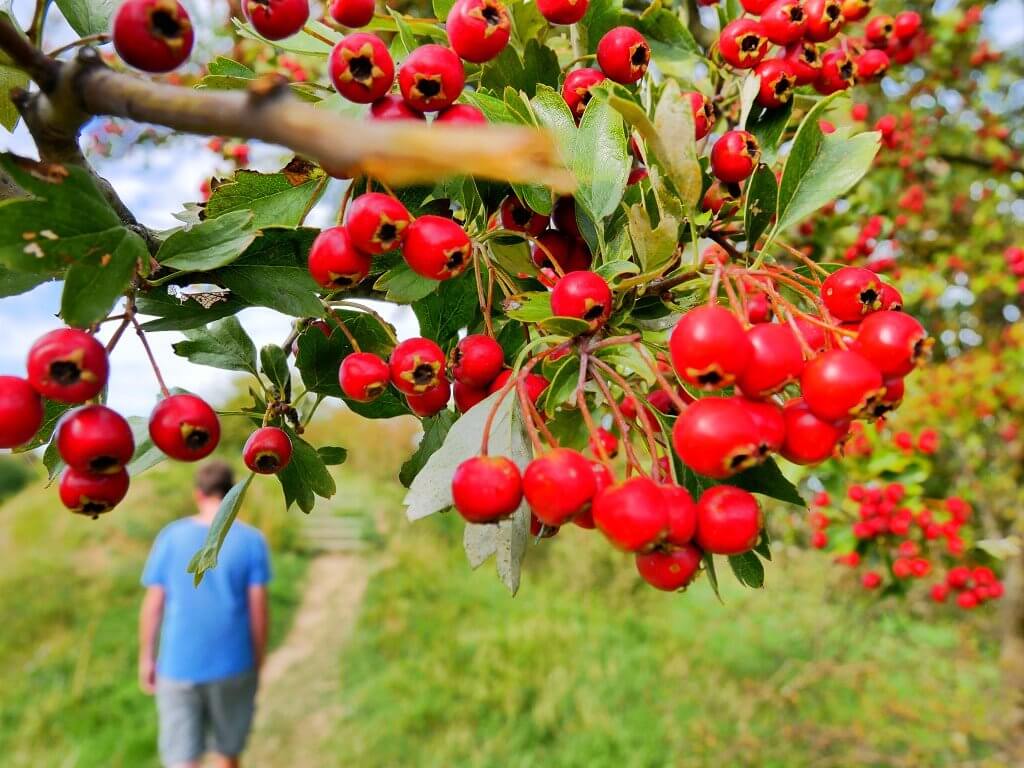 Photographing the Autumn Leaves Around the City
Just like in spring, you should also head out with your camera on one of the sunny autumn days to spot the colorful autumn leaves.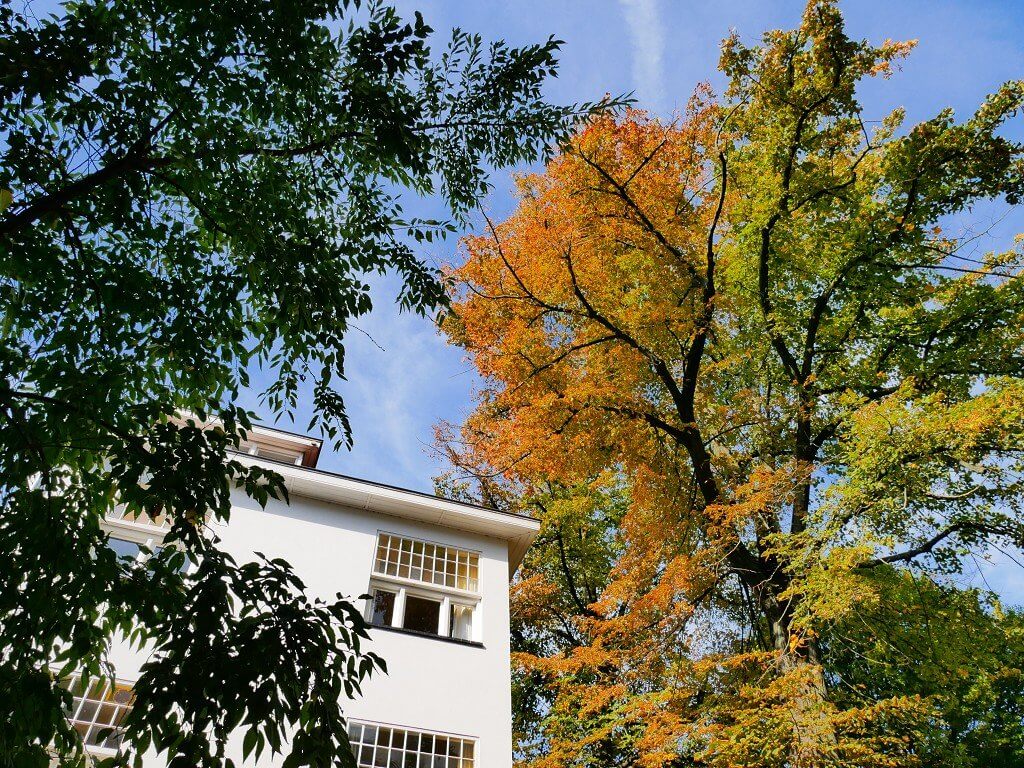 Maastricht has plenty of sunny autumn days for capturing autumn beauty.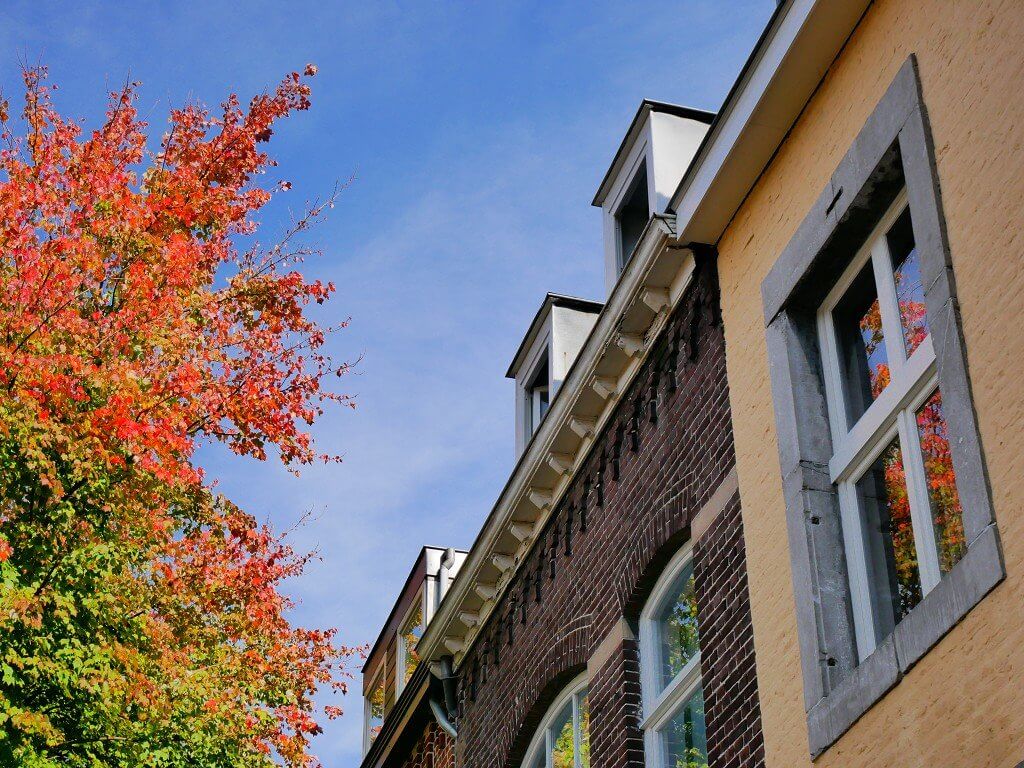 Get a Bag of Croissants at Mathieu Hermans
The best buttery croissants in town are at the Mathieu Hermans bakery. They're not cheap, so getting them is an act of self-care. To make sure the self-care actually works, don't visit this bakery on the weekends or before and after office work hours. The queue often goes outside of the door and I'd hate it if you needed to wait for very long. My favorite time to visit was after morning yoga at 10:30.
If the coffee machine is working, you can get a free cup of strong coffee while you wait. The staff works very hard to serve everyone, so be patient.
Maastricht in Winter
21 December till 20 March
Cycling or Hiking around Sint Pietersberg Round II: Visiting the Old ENCI Quarry
Wintertime is a tough one in Maastricht. Lots of people retreat into their centrally-heated homes and never come out. Days are dark and short. But if you gather the energy to get out, there are still many enjoyable things to do. One of those is visiting the ENCI Quarry, again near Sint Pietersberg on the southern outskirts of Maastricht. Dress up warmly to see some bright colors in an otherwise gloomy landscape.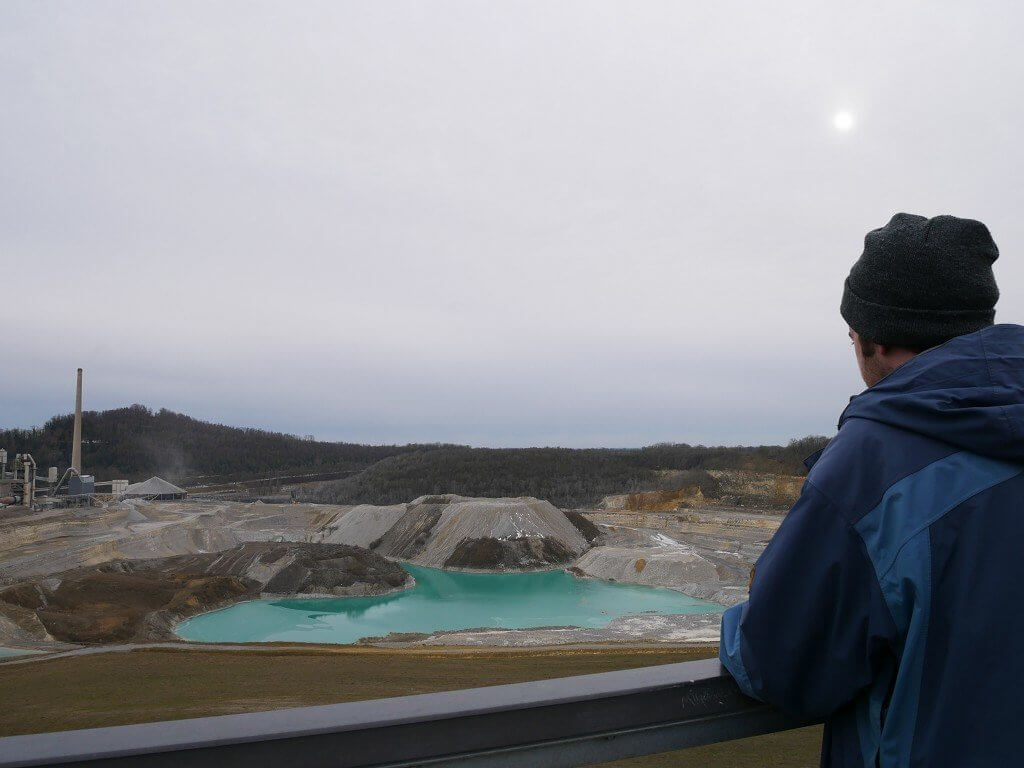 The old ENCI quarry is a former cement factory built over the chalky grounds of Sint Pietersberg. Taking off the top layer formed the previously mentioned D'n Observant hill in the background of the next picture. This chimney is visible from the Sint Janskerk in previous sections as well.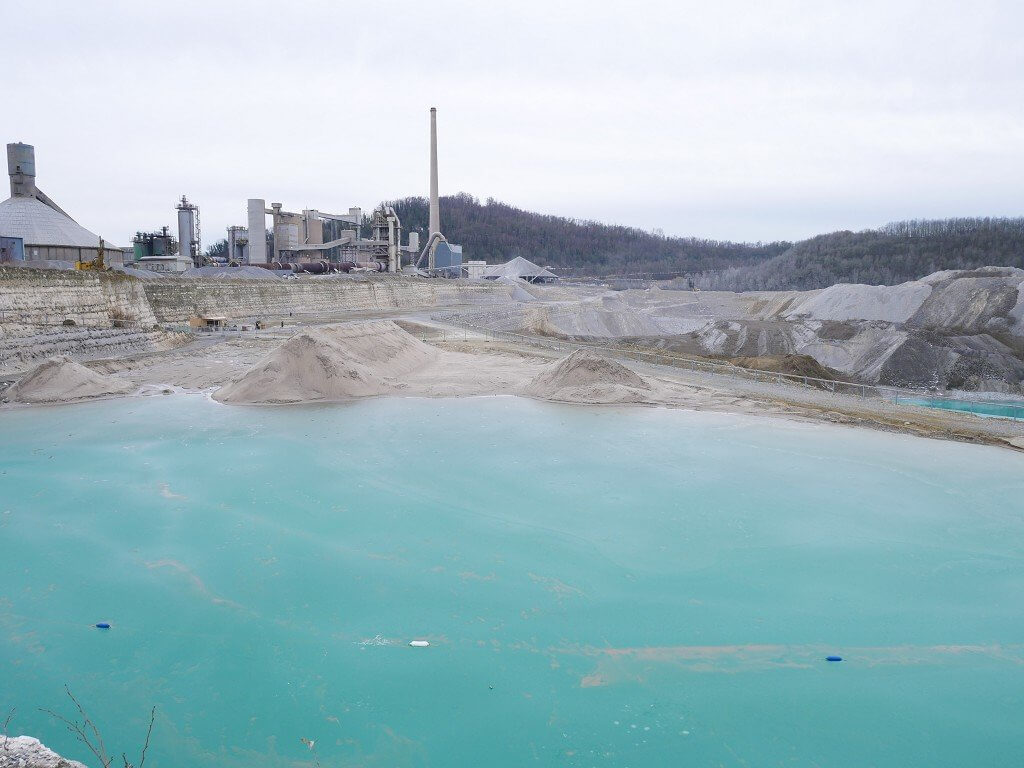 The resulting vacuum consists of a heavenly-blue lake that partially freezes over in winter. It's gloomy, but also looks kind of amazing.
The many layers of the filled-up quarry result in a mesmerizing hole in the ground. Personally, it felt like I was back at an artificial version of the Quilotoa Caldera crater.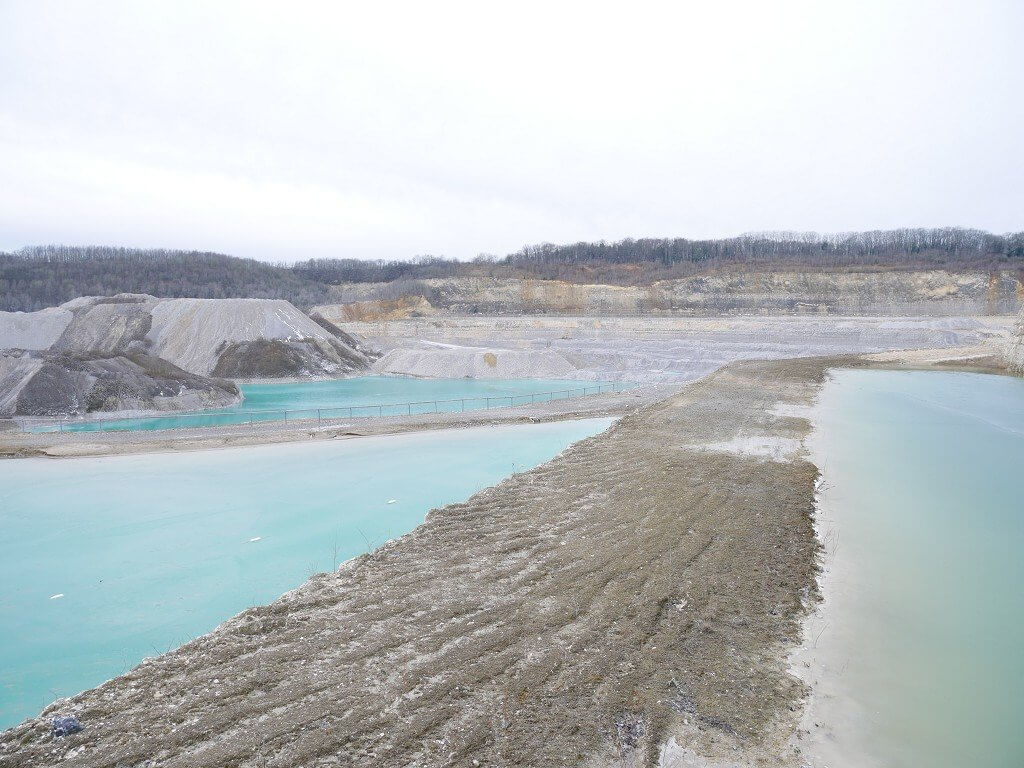 I mean, it looks super toxic at the same time. I read that they're going to make a recreational area out of the former industrial site. It will be very interesting what becomes of these water holes over time.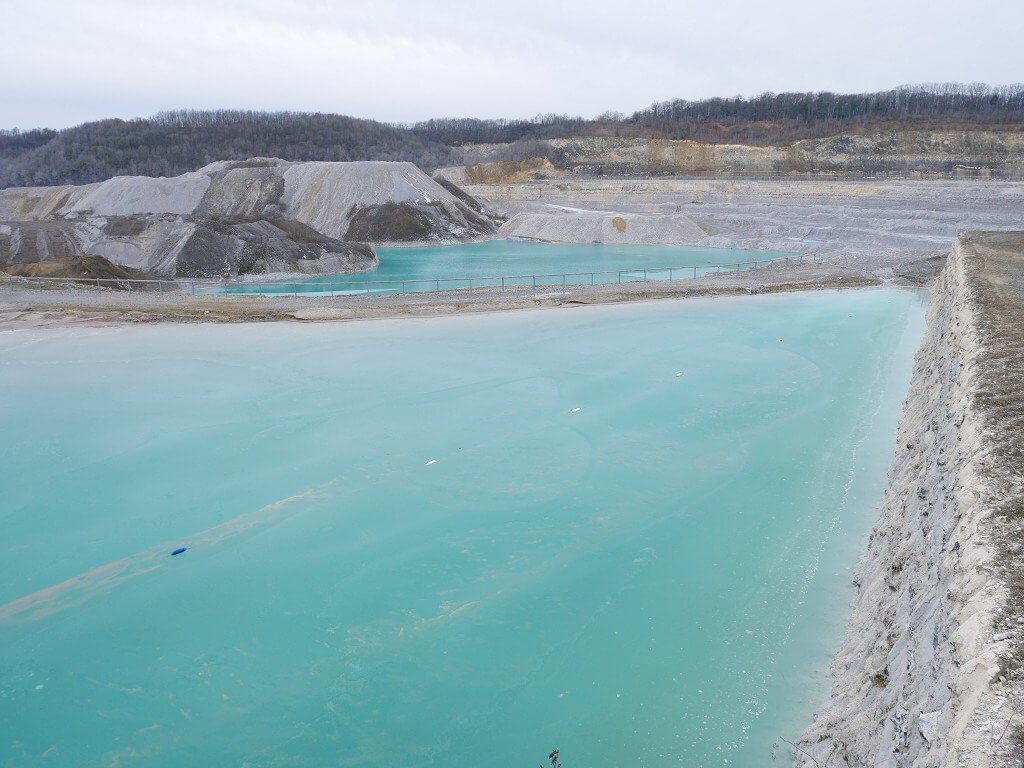 For those who are claustrophobic, you can also get a taste of the cave system described before in the sections above by visiting this area. There's a section of tall marlstone columns that's on the outside, which means you can walk in and out without feeling trapped.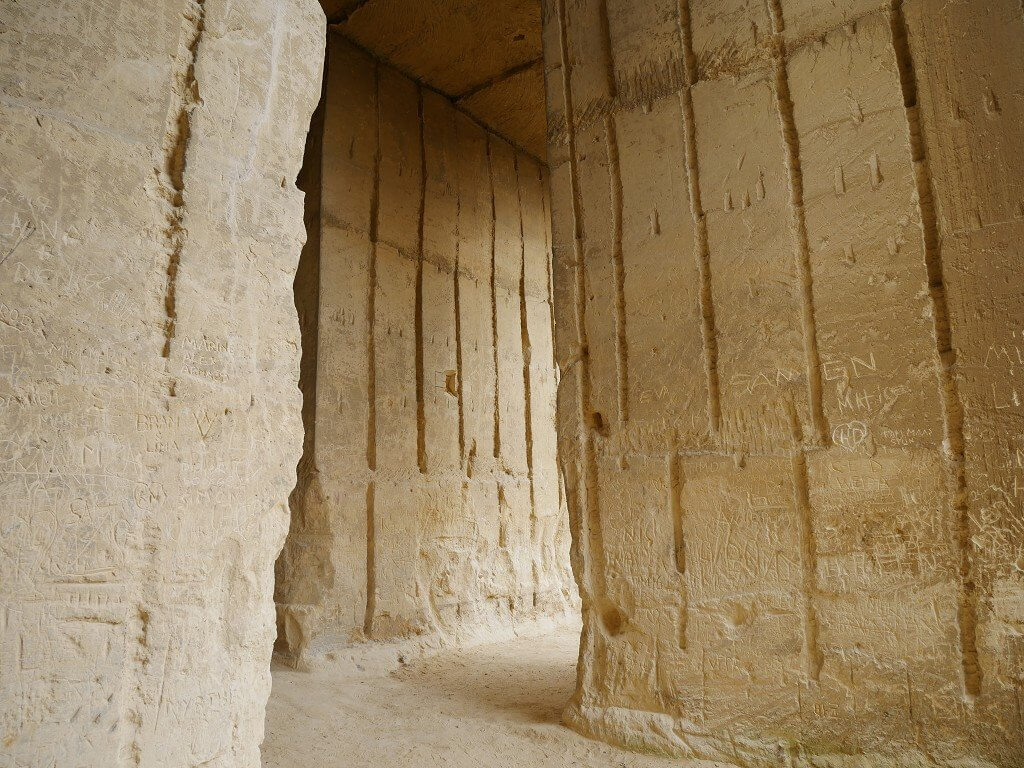 In the end days of winter, you can also find the early crops of south Limburg. If you look closely, you can find the croci flowers in grass patches and… I don't know. Kale? You can see kale grow in gloomy and muddy fields while you make your way back to your home or hotel.
Getting a Falafel at McDönerbox
In winter, it's best to take care of yourself the best way you can. Part of self-care is getting comfort food, and the kind citizens of McDönerbox know exactly how to feed you tasty food while taking care of things you might neglect yourself: fruits.
Popular amongst both the student population as well as the locals, McDönerbox has become a concept in the Statenkwartier neighborhood. While waiting for your order, the cooks often chop up a few fruits for you to eat while you wait for your meaty kebab or your vegan falafel. It's very wholesome and honestly the prime reason to get back here time and again.
Thanks for Reading! Be kind to yourself.