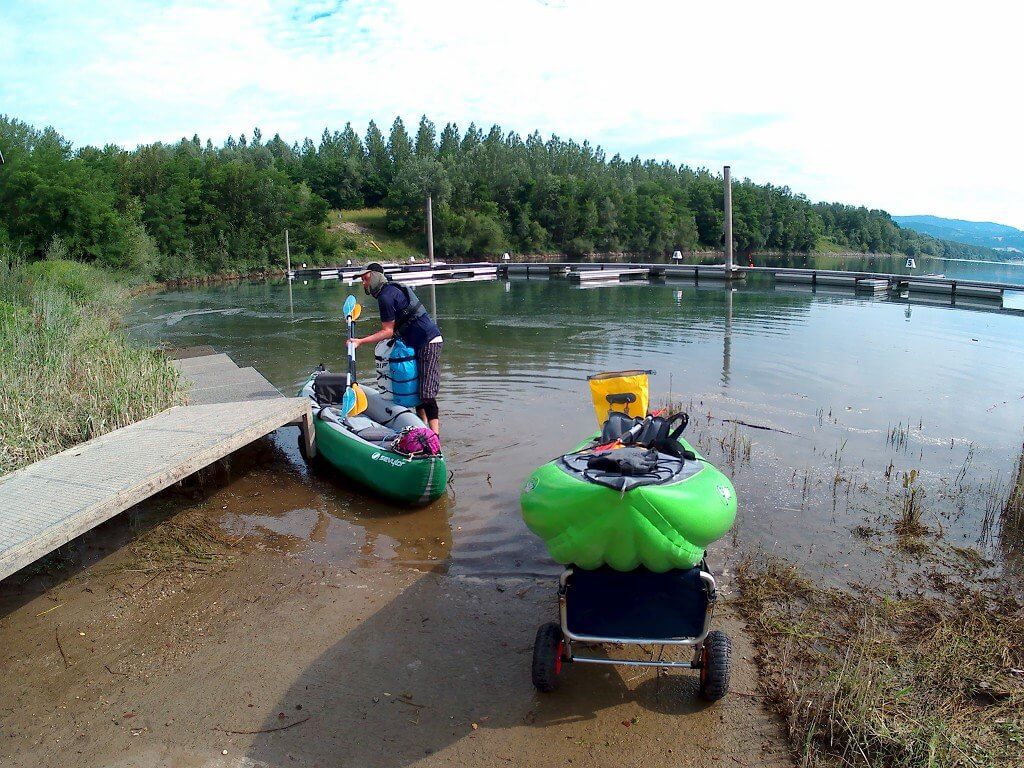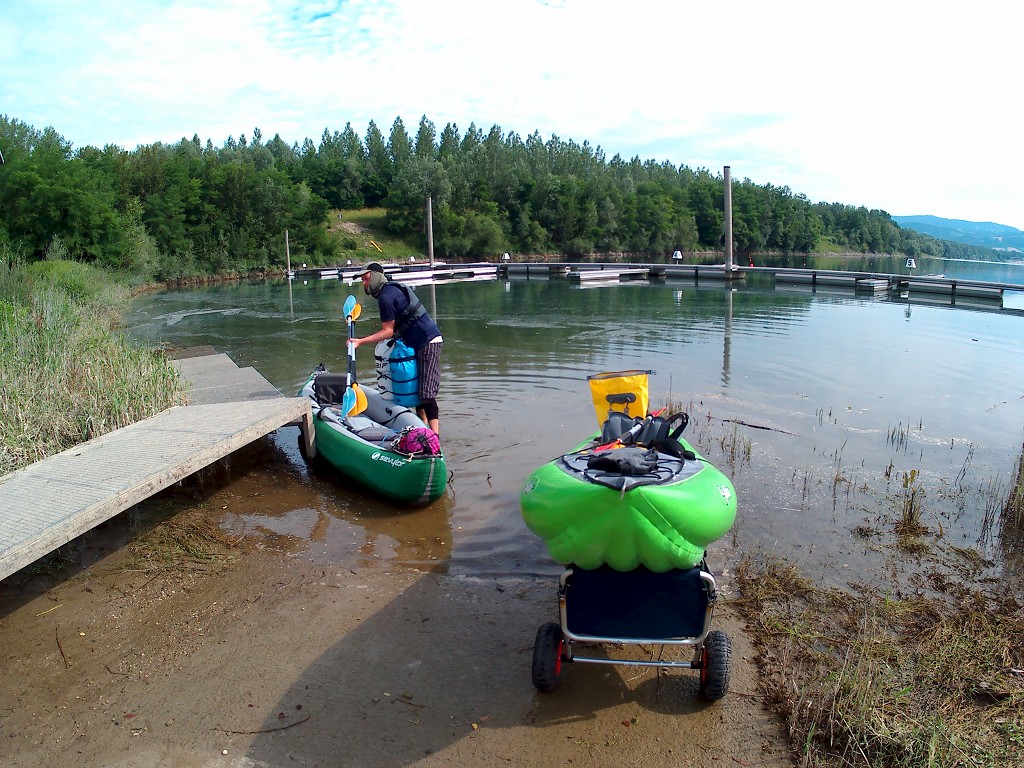 Events chronicled in this post happened on the 5th of July, 2019. We paddled 25.3 kilometers from the town Aschach an der Donau to Linz in Austria. Linz is the capital of the state of Oberösterreich (Upper Austria). Then in Linz we'd take a break from paddling for a little while.
Leaving Aschach an der Donau for Linz
We spent two nights and one day in Aschach an der Donau. In the day, we worked on our own projects from our hotel Josepa Hirsch. We mostly went out to eat, do the shopping for the continuation of our trip, and cursed the lack of pedestrian infrastructure like sidewalks. The first morning we had the breakfast included but on the morning of departure, we left that out and saved a lot of valuable time and money.
Today's distance was about 28 kilometers according to the spreadsheet. It would be partly cloudy, but sunnier later in the day. Our Airbnb in Linz is a self-check-in one, which means that we can arrive at any time. That's why we wanted to get an early start.
We woke up before 6:00, drank our cold coffees, and finished packing up. We dropped the key and left the hotel by 6:55 and arrived at the Danube at 7:00. It's not a long hike to the river, but we had to traverse our tiny and very narrow alley without a sidewalk, which somehow still is a two-way street. Of course, a big fat car showed up and we had to duck in a doorway to make it all fit.
We returned to the same spot we used to exit the river two days earlier, which is next to a little beach. As there's no human with bread at this hour, so the ducks, geese, and swans are also not present. We inflate our boat in peace and start paddling by 7:25. We directly cross over from the right-hand side to the left.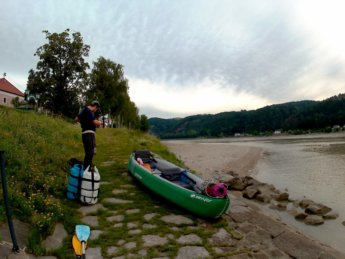 The Long Left Bend
The first leg of the day is basically a very long, slowly turning left bend of the river. We're first facing south and then slowly change our heading to the northeast. It's a funny feeling because you're always anticipating a wide-open view of something behind the corner, but it just doesn't end. The skies are by all means 'partly cloudy', with the type of clouds that's so high in the atmosphere that it still feels sunny, but someone put a dimmer on the light. The air underneath is dry enough to not distort our vision. And then there's that sublime reflection…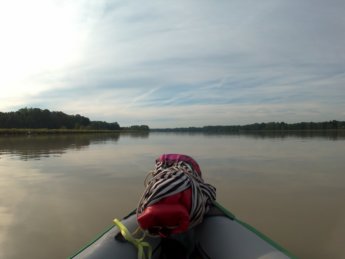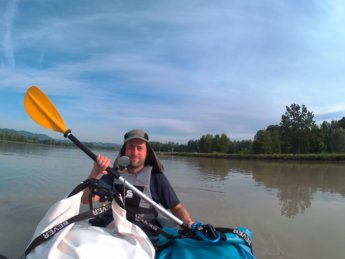 At times, we're facing some hills in the distance. If I look closely, I can see some snowy peak far, far away. At least I think that's what I'm seeing. Perhaps a glacier? Do those still exist in Europe?
I'm trying to look up which mountain range this might be, but I'm coming up with inconclusive answers. I don't think I can trust my vision that well, so I ask Jonas if he sees the same. He agrees… he thinks. I think it's either the Totes Gebirge or the Ennstal Alps, which are both ranges of the Northern Limestone Alps. But perhaps I'm making it all up. I try to take a photo of it.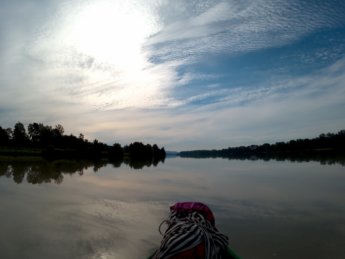 Great Urgency
We continue paddling through the bend when we see a man with a bright green inflatable kayak getting ready for his day at 8:05. We greet him. Then a few minutes later, behind a tree, we see a single person rowboat approach us from downstream. We're discussing which way we should pass the boat when we see the man stand up on his skinny and wobbly apparatus and take a piss into the river. It's a bit awkward because he has nowhere to go and neither do we. And man, that guy really needed to go. He pisses for a full two minutes while balancing and aiming. He's making the best out of the situation and greets us. The Austrian 'greetiness' perseveres.
The water slows down as we're approaching the dam in Ottensheim. There are always some fishermen on the shore this early summer morning. Then there's a rather large fish launching itself out of the water for a tiny snack. This time I finally saw its body; usually, we just see and hear its splash, but not the fish itself.
The first big boats appear on the river at 8:50, from both directions. At the same time, a man in a kayak calmly paddles upstream. From behind, we see the man in the bright green inflatable kayak approaching. We're pretty sure he's faster than us and will overtake us soon, but Jonas says we're kind of going at the same speed.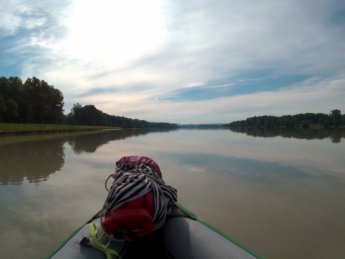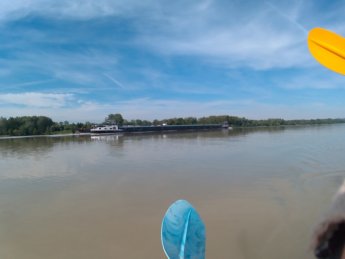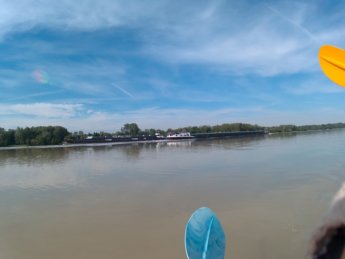 There's a large paddling of ducks in front of us, and we don't want to startle them when the ship that travels downstream still has to pass. Together, we bounce through the waves until the coast is clear.

Inspired by 'Pipi Man', we take a break on the shore from 8:55 till 9:00 and let the green kayak overtake us. Let's name the guy Tobias. I can recognize by now that Tobias' boat is a Gumotex. When we get back into Zucchini, I ask Jonas whether we ever considered getting a Gumotex. While they do sell them on the German Amazon, we didn't really consider it because A) they're slightly pricier, and B) we had seen a (deflated) Sevylor in real life, which made it easier to choose what we already knew. And let's face it: we didn't know whether this trip would be heaven or hell and whether we'd want to quit after a week. Now that we have the knowledge about the enjoyability of this trip, we might have made a different purchase.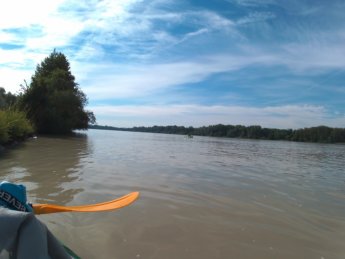 Kraftwerk Ottensheim
The hydroelectric power plant (Kraftwerk) Ottensheim appears. We still have sight of Tobias, who is approaching the ramp. This portage around the dam is a bit odd: instead of getting back into the river, we have to get into an old arm of the Danube where the water is probably stagnant. We arrive at the Umsetzanlage (portage point) at 9:35. There are three boat wagons unceremoniously dropped at our portage point, but that means we don't have to walk to get one.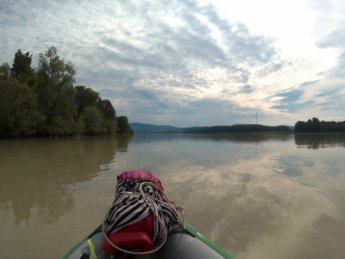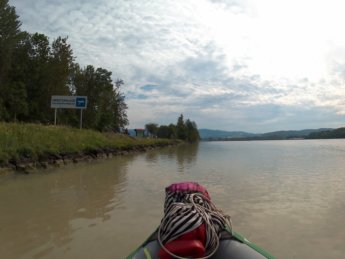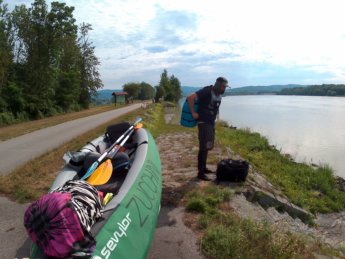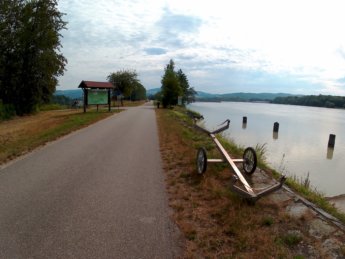 We take the stairs to exit, while Tobias uses the ramp. Tobias has his own boat wagon, which is the type that can also be used as a seat. We're still thinking about getting our own boat wagon in case the dams don't provide them, but it's a little late in the game by now as there are only 8 more dams in Austria, one in Slovakia/Hungary, and then two more in Romania, which we won't even go to this year because we're only paddling to Budapest in 2019. But Tobias looks very satisfied with his boat wagon while suggesting to us to also use the ramp instead of the stairs.
We place Zucchini stably on the boat wagon. We roll it via the road to the old arm of the Danube. I'm holding it from the front and Jonas from the back. I'm really hoping the dams will keep providing these boat wagons in Austria.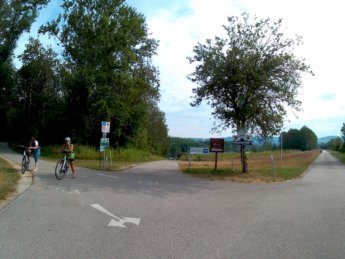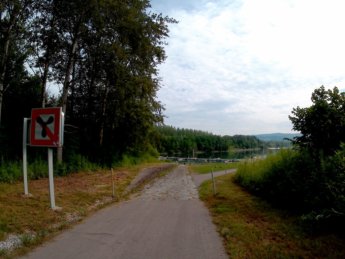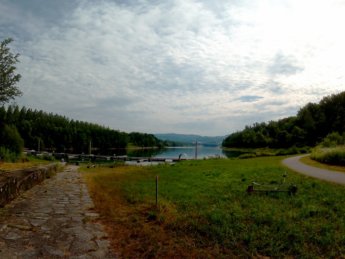 The Rowing Track at Ottensheim
The old arm is actually a rowing race track. The stagnant water is filthy and smells. Of course, there are more bugs around here. We put Zucchini back in the water and Jonas brings the boat cart back while I strap in our luggage. Tobias is smoking a cigarette on the shore, probably to let us overtake him here so he can paddle in peace once again. By 9:55, we're paddling again.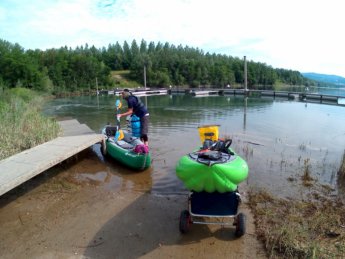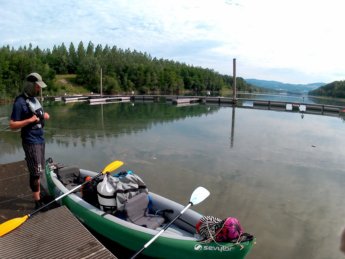 The old arm's water is much greener than the flowing water of the main river. There are white mini-buoys in the water to our left where the race track for rowing competitions is at. The right-hand shore has boxes every couple of hundred meters to watch the race. They're pretty serious about their water sports here.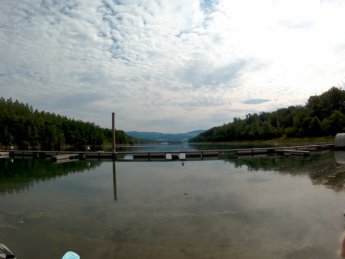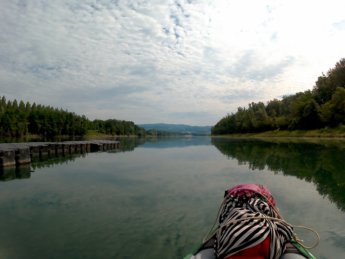 The track is in use by individuals and teams of two. Most are rowing boats, but there's also the occasional kayaker improving their time. We're just trying to get out of here and back into the river to go to Linz. In the distance, we see the clubhouse and its restaurant, and the Ottensheim castle on a hill. That's where this ends. It takes us half an hour to get through and back into the river. The total distance in the old arm is about 2.5 kilometers. Only when we reenter the Danube, we see the actual dam of Ottensheim from the downstream area. It's already small from our point of view.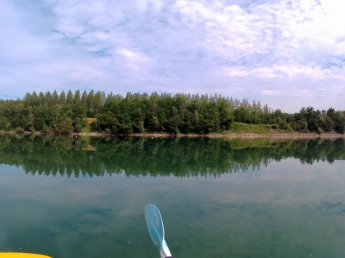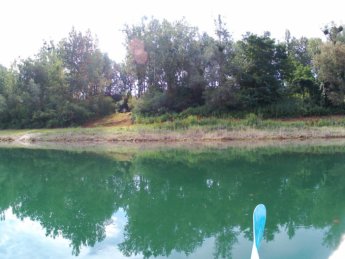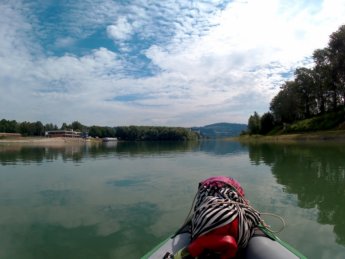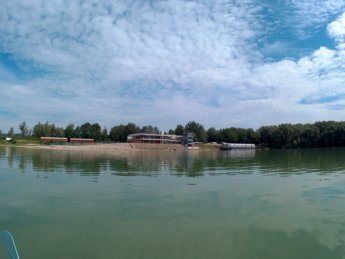 The Ferry and the Flow
We need to paddle through some strong twisty currents to reenter the Danube proper. A police boat also comes by and causes quite some confusion. We'd seen the ferry arrive on the right-hand shore before we reentered, and hoped to pass it before it would make its return to our side. It's a big ferry that also services cars, but is still attached to a rope above the river.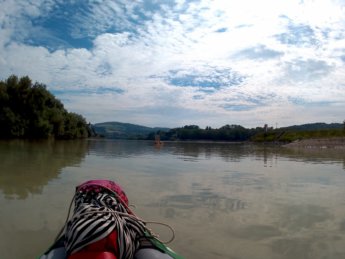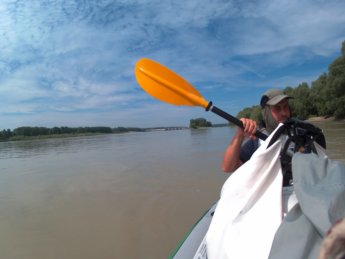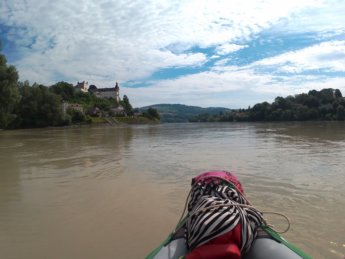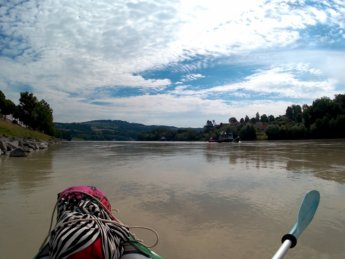 A big ship named Kelheim travels upstream and forces the ferry to wait, so we use the opportunity to pass the ferry's line of travel and directly traverse the river to the right-hand side through the shallow wake of the big ship. It's 10:35. The police boat turns around and causes some more confusion, but we're now safely on the right-hand side.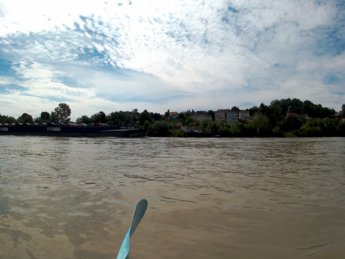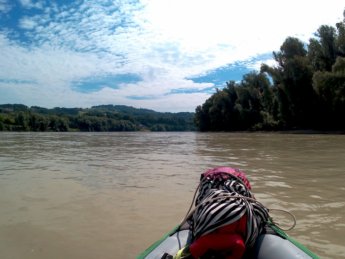 We still see many kayakers and rowers paddling up or downstream. In our rearview, we see that Tobias is also back. A sailing boat with its mast unstepped (i.e. flat on deck) motors downstream. It's not a small vessel, nor a particularly large one. I wish them fortunate winds wherever they intend to sail their boat. A really fast cruise ship passes and causes some nastier waves than usual.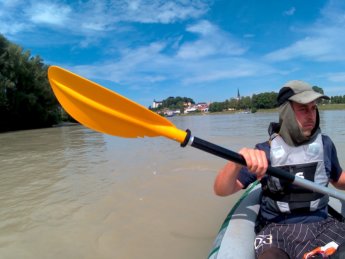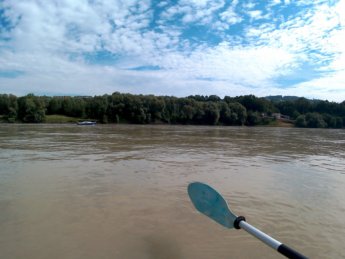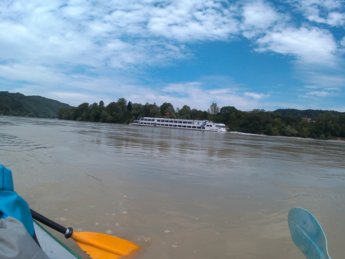 Even though we're approaching the third-largest city of Austria, there is not a lot of evidence of that yet. The area here is quite green, and we can sometimes barely hear the engines on the nearby roads. The river's flow here is really nice once again, so it's time for us to eat something while relaxing. I grab the falafel wraps we'd bought at Spar the previous day. At 10:50, the sun finally comes out from under its soft filter. We reapply sunscreen to be on the safe side.
A peculiar yellow helicopter passes over us. It's a helicopter with an open cockpit, which is something I'd never seen before. It flies quite low and has two people inside it. Doing some research now, it's actually not a helicopter, but an autogyro/gyroplane/gyrocopter. Anyway, it looks like this and I want to hitchhike one.
Arriving in Linz
We paddle some more while Tobias is now quite close to us. It's time for us to make one final break on the shore before we arrive in Linz. We try landing on several spots but have quite some difficulty to find a good spot for our purposes. When we finally have one, Tobias overtakes us and shouts "You know, there's a beach just one kilometer downstream from here." Jonas responds with "Good to know for next time!"
After our short intermezzo, we return to paddling. After less than one kilometer, a beach appears with Tobias on it, presumably taking a short break. Other people are also on the beach, organizing barbeques even though there are signs saying that fires are forbidden. The sounds of vehicles racing in and out of the city increases as the river is flanked by major roads. There's a lot of construction going on with the roads and my map shows a planned bridge across the Danube. It's still very much in the early stages.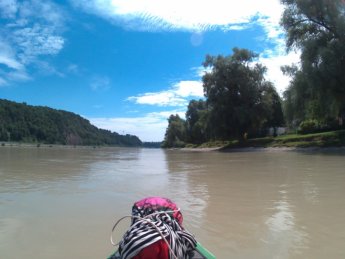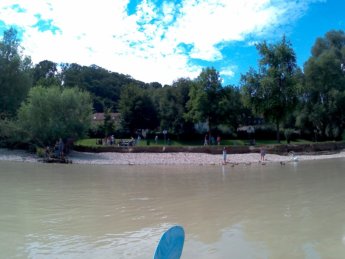 The river bends slightly left and we see the bridge that spans the river in the center of Linz. Somewhere before or after that bridge is our exit spot for the day. Our satellite research hadn't yielded one clear choice of exit, so we picked something that looked good enough, and then also found a backup exit.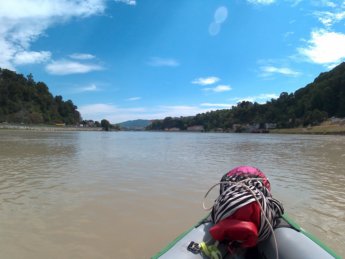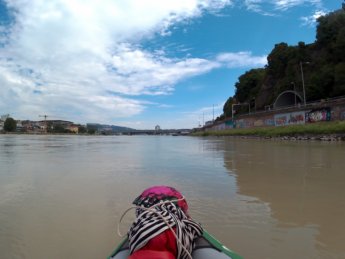 We arrive at what we think is our first choice of exit at 12:05. It's a bunch of stairs that lead to the waterfront but not into the water. Damn. There's a young woman sitting on the steps who is video calling with someone. We struggle to get out and crawl over the riprap. There's not really any shadow here. The woman decides to leave when we start seriously unpacking the boat. I check the map and see that we'd apparently gotten out 200 meters too soon. Shit. Maybe that's where the good stairs would have been.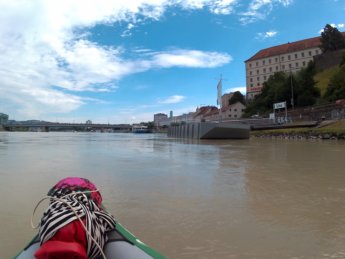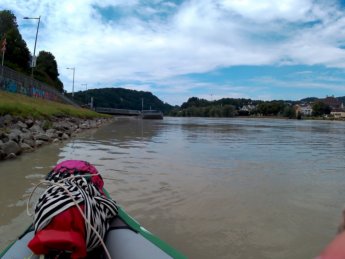 We dry the boat and pack everything up in anticipation of a 1.4-kilometer-long hike through the center of Linz to our Airbnb. Jonas says we can make a stop on the way to drink a beer, to split up the long-distance we need to cover. At least we'll have plenty of time to recover in Linz, as we're staying here for nearly a week.
Walking through Linz
I navigate. We see the spot that we'd marked before as our exit spot, and it was even shittier than the one we chose. There was nothing, really. This means we really need to scout a good location to launch our boat from before we leave Linz.
I'm plotting a route through the old town. Every time I measure if we're halfway already, my GPS says we didn't make a whole lot of progress. We stop for a beer after 700 meters at a café/restaurant called Ecco. We sit down on the terrace and observe the people. It's incredibly crowded. And those Lime and Tier scooters don't make it any less busy.
We see one guy on a Lime scooter try to micro-optimize his time by also texting – something the middle-aged man really can't do. He wobbles his scooter and endangers the whole pedestrian zone. And he just rides up and fucking down the street like a moron. Then he parks his scooter IN THE ENTRANCE of an ice cream salon, effectively blocking the way for other customers. He's the absolute personification of a… Douche Canoe. And yes, he then tries to eat his ice cream in a cup while riding the damn scooter. I told Jonas I'm sure we'll see him again before finishing our beer.
This beer, that cost €4.50 per glass. That's €9 of beer. This isn't a great start, Linz.
From our front-row seats, we see so much more asshattery in the streets. Even before we see the leader of the pack of shitheads return, there are people cycling in the pedestrian zone, or pedestrians walking in a wide row hand in hand blocking other people's way. There are people with enormous contraptions to drag their spawn around while taking up as much space as possible to loiter. And it's just so crowded.
For the final 700 meters to our Airbnb, I'm experiencing proper panic as I walk through the crowds of people. I'm happy to finally arrive at the door of our Airbnb, where we can get the key to our apartment and check ourselves in. The apartment is incredibly nice and I'm so looking forward to some downtime to catch up with work. I really hope we can still do a day trip in Linz that will restore my faith in humanity; I don't dislike places easily.
This week, we can finally cook for ourselves again – something we always enjoy – and do some other fulfilling stuff while our arms and hands catch a break from exercise.
Entertained? Please Share this Story!