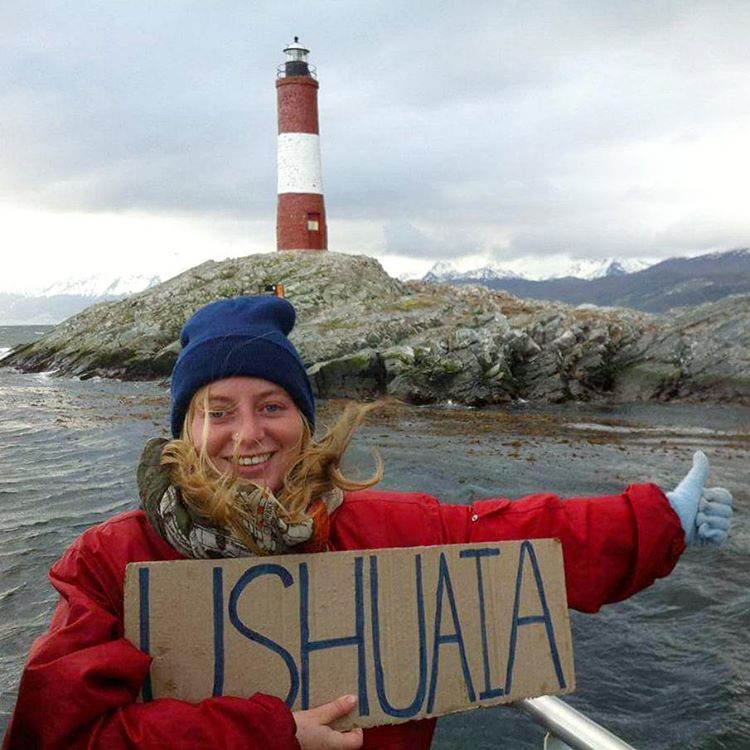 Twelve days ago I had my last ride to Ushuaia, Argentina, also known as "The End of the World" (Argentina's greatest marketing success!) and smoked my last cigarette upon arrival. Today I leave the place that embraced my – for now – last cigarette butt and hitchhike back to where the sun wants to shine. I just made this silly plan to quit smoking four weeks ago, when I still thought it would be poetic AF to go cold turkey at the End of the World. Little did I know it would be a super massive black hole for your cash if you actually want to see and do stuff there. Tourist trap pur sang.
I took an extortionately priced boat trip to the famous lighthouse, which is marketed as the "Lighthouse at the End of the World" in the book by the same name written by Jules Verne. It's not. That one is in Isla de los Estados (Staten Island, Argentinian  edition), unreachable unless you're in the navy of Argentina or have a private boat and get wrecked there. The lighthouse in the photo is called faro Les Eclaireurs, which probably means something along the lines of "Lighthouse of the Enlightened" in French. Bad pun? You decide.
I'm currently on my way back north trying to keep it zen with the nicotine and enjoying my expanding lung capacity in the butt freezing cold. Not too fast though! I first want to visit Chile's Punta Arenas (also some end of the world) and perhaps some other things on the road. Argentinian Patagonia, but especially Tierra del Fuego ("Land of Fire" – there's oil and gas, but it's not actually warm here) island, has been hell for hitchhiking, with minimum waiting times of three hours. I've been wondering if I'm doing it wrong, but apparently that's just how the cookie crumbles here.
The reason for my slacking behavior on this blog is that I was tired, demotivated and I couldn't feel my fingers (which makes typing harder). Any hitchhiker has been through phases of frustration, but here the frustration can easily leap into insanity. The sun is like a lamp and not like the sun and my flipflops haven't seen the outside of my backpack since forever. Even travelers need a change, sometimes.