Mauritius is a country I first set foot in December 2021. Below, you'll find the articles I've thus far written about Mauritius and Rodrigues. Since we obtained the 1-year premium visa, we started a bit of a digital nomad community in Mauritius. If you want to come to Mauritius in the capacity of a remote worker, join our Facebook group. Also, make sure to read our remote working guide to Mauritius and Rodrigues.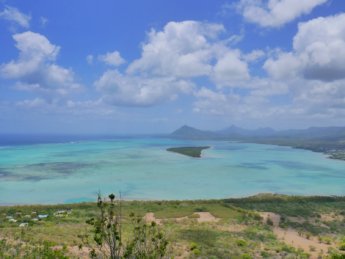 Map of Mauritius POIs
Use the menu on the left to make sub-menus appear or disappear. You can also find remote or uninhabited territories of Mauritius on this map.
Things I'd Like to Do in Mauritius
Hitchhike with locals, so predictable! ✅
Visit the capital Port Louis ✅: the history (Aapravasi Ghat), the food, the public transit (they have a very cool tram it appears)
Chase the remnants of the historic railway on Mauritius Island
Go hiking to some peaks or perhaps canyoning at some waterfalls. I'd love to visit the country high point Piton de la Petite Rivière Noire (828masl) and. Seeing (though probably not climbing) Pieter Both and Le Pouce ("the Thumb"—good mountain for hitchhikers) mountain is also something I'd like to do
Hopefully, visit the Mauritius Radio Telescope. It's quite a big instrument, but I'm not sure if it's open to the public to visit
Visit as many islets surrounding the big isles as I can. Here's the list I'm using
See the loneliest palm in the world ✅ at the SSR Botanical Garden of Curepipe
Pick up some Mauritian Creole words or phrases. (Lessons thus far: most of it is pronounced just like french but written differently: bonzur (bonjour), mersi (merci), etc. Some words from India have a different spelling than we know from the Malaysian Indians: faratha instead of paratha, appalam instead of papadum. And when you want to say something is good or tasty you apparently say "C'est top!" which is something I haven't ever heard in France. But most people will ask if we prefer English or French and then they also adapt their French to the 'metropolitan' style)
Rent a scooter with Jonas and explore the islands that way ✅. A quad can also be nice for a short while
Maybe relax and do some writing? Mauritius looks like a nice country to stay in for several months to sit and write, do day trips, and enjoy the weather
Do some sailing ✅ (we've taken some dinghy sailing classes). I can help crew yachts and stuff and (CrewBay profile and Find a Crew profile here) would love to enter/depart Mauritius and/or Rodrigues by sailing boat
Go snorkeling, perhaps kitesurfing, but definitely kayaking ✅. My preliminary search has shown that at the Albion caves is a good place for sea kayaking
Enjoy some local festivals, such as Thaipoosam Cavadee (2022 procession canceled 😔)
Things I'd Like to Do in Rodrigues
Take the ferry to/from Rodrigues Island
The highest point of Rodrigues is Mont Limon (392masl)✅ and it's quite accessible
Also, check what Rodriguan Creole is about and how it differs from the Mauritian variant
Kayak to some of the small islands ✅
Perhaps this is a nice island for some horseriding? (ETA: not anymore. There used to be horses at the resorts in Pointe Coton, but now there are only donkeys on the island)
Once I find more ideas or inspiration for visiting Mauritius, I might add them here to this page.
If you know cool places and things to do in Mauritius, comment below so I can always find your suggestions again once I start making the dream come true! Tips are especially welcome if you are Mauritian or have lived there for a while
Are you a travel blogger and do you have good posts about Mauritius? Drop them in a comment below and I'll read them!
We left Mauritius for Madagascar on the 15th of November, 2022. We flew to the Malagasy capital Antananarivo with Air Mauritius. Deciding on Madagascar Our one-year Mauritian premium visa was coming to an end in November. We had considered renewing this fantastic digital nomad visa for another year; the MV Trochetia was sailing again to Rodrigues instead of the MV Black Rhino. As you might know, we really love Rodrigues. But the only way we'd like to travel back there would be by boat. We had already imagined staying in Quatre Bornes, then taking the Metro Express to Port Louis,Continue reading