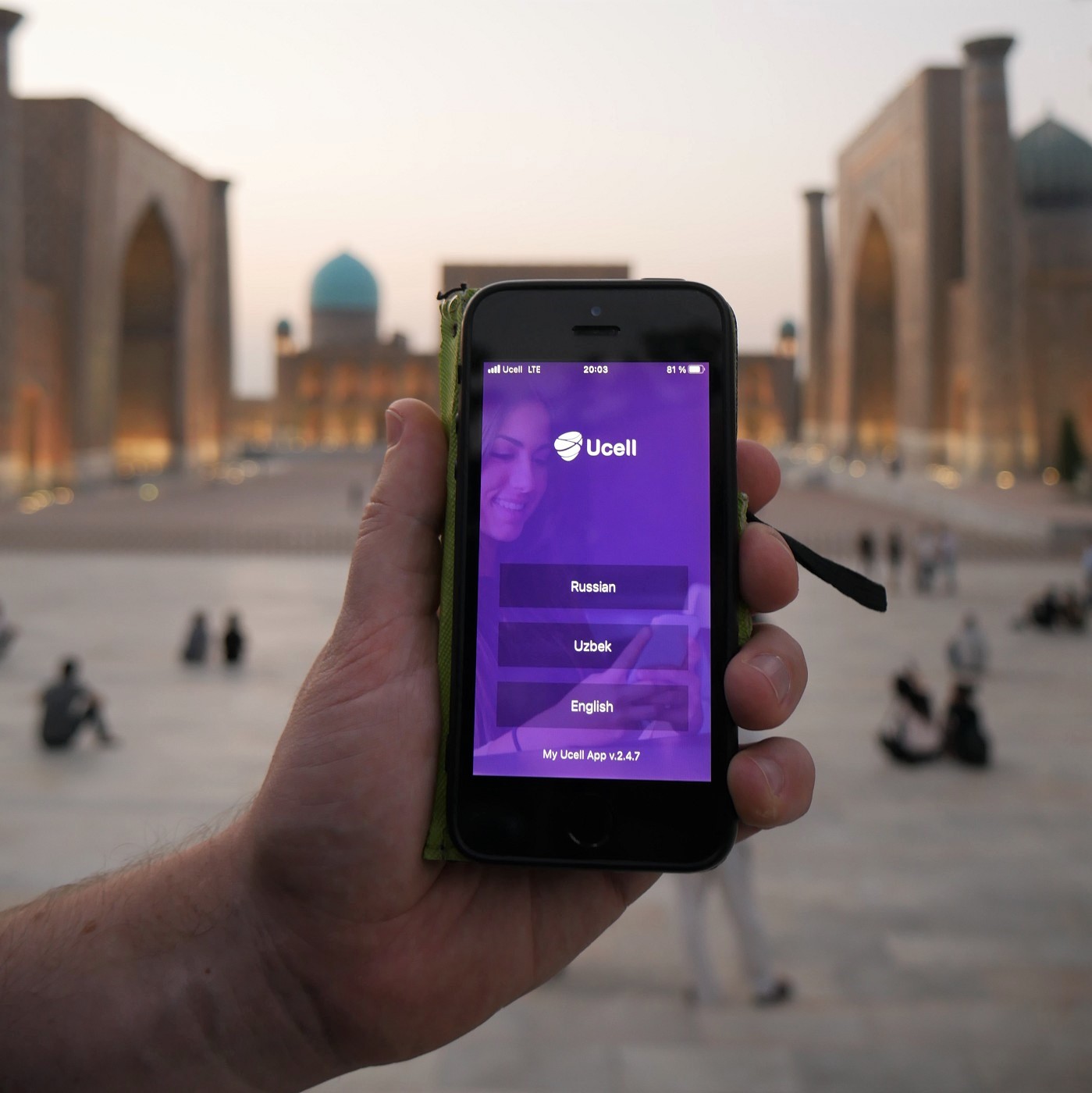 When traveling to Uzbekistan, it's a great idea to get a SIM card for independent travel. When we arrived at Islam Karimov Tashkent International Airport, we didn't buy one there because the price was double from the city. Mobile data is quite affordable in Uzbekistan. Here are our learnings from getting a SIM card in Uzbekistan on our first day in Tashkent, so you can avoid the mistakes we made. FYI, the country code for Uzbekistan is +998
Which Uzbek Telecom Company Should I Choose?
Analysis of the Uzbek prepaid data wiki showed us that the info is probably rather out of date. Jonas read up on the outdated information and wrote down his conclusions: take Beeline, Ucell, or Mobiuz. Mobiuz had the best coverage, so that's the one we were trying to go for.
Our Experience at TAS Airport
As established in another blog post, we were a little complacent in our research before heading to Uzbekistan. We knew there was a chance we would not want to buy a SIM card at the airport because of convenience pricing. At an information desk that also arranged taxis, we found a little sign with Ucell packages. Not Mobiuz like we wanted, but still one of the three main ones with relatively good coverage.
The packages on the sign didn't mention a price, which is a red flag. The lady behind the counter told us the prices, which were quite high. When she said she didn't have the smallest internet package (7GB), we knew this wasn't the place to buy a SIM card. These internet packages are virtual products and therefore they can't run out. It's artificial scarcity to upsell you to a larger internet package.
So we decided to go dark and travel to our apartment in Tashkent offline. So we couldn't take a Yandex taxi and had to negotiate a price to enter the city. Jonas told me any price under UZS 50.000 would be okay. The Yandex price is UZS 16.000 outside of surge pricing. The first taxi driver asked for UZS 120.000 and the second one for UZS 40.000. We had to walk a bit with the second guy to his parked car and then we drove to our apartment. This was quite easy and we gave him the address to put into his phone navigation. I was a little jealous of his internet.
Asking for a SIM Card in All the Wrong Places
Now that we had opted out of the convenient option at the airport, we walked from our apartment nearby the Buyuk Ipak Yoli metro station to some shops. We entered the first shop that had a Mobiuz sign – among signs for Beeline and Ucell and a thousand other providers – outside. Jonas asked for a SIM card and a young woman said they only had Uztelecom. Okay then, let's do Uztelecom even if we don't want it. It's hot and we want to get out of here.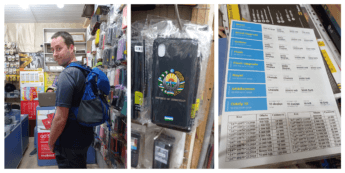 We handed over our passports on request and waited in the skinny shop with too many people dropping in and out for something to happen. Some 20 minutes later, she told us that their internet is down so she couldn't register our SIM cards. I cannot think of anything less trustworthy than a phone shop that doesn't have its internet situation together.
Next, we walked a little down the street to the next phone shop that said Mobiuz from the outside. We dropped in and there was a guy randomly chilling. We asked him if he had Mobiuz SIM cards and he said "СИМ карты нет!". I insisted on a better answer and asked him in a matchy tone "А где СИМ карты?" which was met with some angry noises. Then we fucked off as was implied.
Next, we found another shop that said Mobiuz, and the young lady just said they can't help foreigners—only at the offices or even the head offices (головные офисы). Okay, so no more of these tiny shops. She was friendly, so we asked her where the Mobiuz office is at. She replied with some kind of "ploshchad alyievsk" and it didn't sound too hard to spell.
Back outside, I of course realized that I couldn't just half-ass the spelling of the square name and then let Google fix it for me; no internet. So I tried finding it in my offline map app. I tried six different spellings and two different alphabets, waiting for suggestions to pop up after every letter I typed. No dice. We were hungry, so we went into the nearest kebab shop to avert a hangry crisis from either of us. I tried another bunch of far-fetched spellings and just looking over a list of square names for a plausible one while waiting for the food with no luck.
Life is dumb without the internet.
Finally, Buying a SIM Card in Tashkent
After the food, we walked even more down the road till we came across a big store saying "Ucell" in large letters (address). There was a guard outside and "no photo" signs on the door. So this is an office.
We made sure our masks were snug, sanitized our hands, and then sat down at this booth with a lady behind a thick layer of plexiglass also wearing a mask. I asked for two SIM cards and said we were foreigners, which she already found obvious. She asked us how long we needed the SIM cards, which is 30 days. We already knew that if you stay longer than 30 days – which isn't possible on a tourist visa anyway – you need to do some special registration with one's SIM card, which looks like a painful process.
We handed over our passports and she started typing up all our little details, including which mayor of the Netherlands issued my passport.  She asked me which package I wanted and I chose the 9GB package for 30 days, hoping that would be enough. She was very diligent. I had to sign it, she stamped it, and she kept a copy and gave me one. Typical for places like this, I had to pay for and receive my SIM card at a separate desk. But I said we paid it together so then it was Jonas' turn, who got only a 7GB package.
We paid at the little desk and immediately spent some time under the nice breeze of the ac opening up our phones to insert and activate the SIM cards. The useful codes to check balance were written on the back of the form. We didn't need to do anything to activate the SIM card.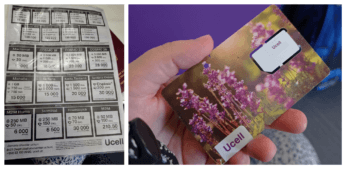 The price: UZS 50.000 for mine with 9GB and UZS 40.000 for Jonas' Uzbek SIM card with 7GB. The actual packages are UZS 45.000 and UZS 35.000 but we had to add UZS 5.000 balance to each card for some reason. That's basically the price of the SIM card.
A couple of days later, we found a Mobiuz office in our street in the other direction. Of course…

Mistakes We Made Buying a SIM Card in Uzbekistan:
Not screenshotting/downloading all the info we needed to navigate to our apartment without internet
Not putting in Jonas' alternative SIM card (Thailand/Germany) to send a text to our host the second we decided we weren't buying at the airport
Trying to go to a little shop that sells mostly phone cases and not SIM cards; instead, we should have headed to a big office of Beeline/Mobiuz/Ucell directly since the small shops don't have the necessary powers. I made a little inexhaustive map with big offices of some of the telecom providers in both Tashkent and Samarkand (for the latter you need to drag the map). Use this to find one near your accommodation or as a destination with a taxi driver
Uzbekistan SIM Card FAQ
Is there an easy tourist SIM card available in Uzbekistan?
Mobiuz offers a "Tourist SIM Lite+" (3GB, UZS 21.000) and "Tourist SIM+" (8GB, UZS 42.000), which are okay offers, but this wasn't available to us at Tashkent airport.
Is buying a SIM card in Tashkent at the airport more expensive than in the city?
Absolutely.
Note: if you're headed into the city without buying a SIM card at the airport, make sure to screenshot everything you need for your arrival. If you have all info offline, it will not be a problem to check into your Airbnb or find your hotel. Include in your research the nearest service office (xizmatlar ofisi) of the telecom company of your choice so you can visit it.
What should I bring to buy a SIM card in Uzbekistan?
Your passport
Your patience
A pen, just in case
Enough Uzbekistani s'om in cash or a working card (Visa)
A facemask for as long as corona will be a thing (forever)
Which company should I choose?
Mobiuz, Beeline, or Ucell. We chose Ucell so the rest of these tips will be about Ucell only.
Which Ucell package should I buy?
Jonas first got a package of 7GB and I got one of 9GB internet. After ten days, that proved to be not enough for me since the home internet wasn't stable with my computer. I shared the internet from my phone to my computer and that drained the package quite quickly.
Our impression is that the internet in Uzbekistan isn't as good and stable as in Kyrgyzstan.
Can I make a hotspot for internet with a Ucell SIM card?
Yes if you have an Android, no if you have an iPhone. It's Apple's fault that they locked this option.
How to check my Ucell balance?
Type *100# to see your general balance in UZS.
Type in *103# to see how many megabits of mobile data you have left. If you topped up your mobile data, this code will change to *107# for some reason. It will first finish the old package before it eats at the new one. I don't know what happens when you top-up your top-up; perhaps it forfeits the old data, hopefully, it just adds up.
If you're into calling and texting, you can check this balance by typing in *102# to see your minutes.
How to top up a Ucell package?
First, decide on which package you want to top up. Gather enough small bills for your amount of data vs price (go to the Ucell website to check this), then find the nearest Paynet machine. "Paynet" isn't the only name of these payment processing machines, but it's the most common one. You can find them at supermarkets and random shops, usually next to the ATMs. You can also ask someone where to find a Paynet machine (извините, где Paynet автомат?) and they will likely point you in the right direction.
Once you're at the machine, it has a menu where you can select Ucell. It's also possible to change the language of the menu with mixed results. Anyway, select Ucell and type in your phone number. Insert the bills in the slot and let the machine do its thinking. There's no change given and the machine doesn't charge a fee. It will print out a receipt when it's done and then you'll also receive a text from Ucell, which is usually not immediate.
Now that you have money on your phone, you can book a new package. To do this, type in *555*3# on your phone. You will receive a menu with GB packages. Click reply and select the number of the package you want and send. It will show you the price and then you have to confirm. As an alternative, you can use the glitchy Android app (the iOS app seems to not exist anymore) or the website, which are completely in English.
Should I download the Ucell app?
Up to you. At the time of writing, it would often crash and you'd have to login again. But it can be useful to book packages because you can just select them, although it might require some patience. But you can do everything with the *# codes previously listed. I just took pictures of the Ucell app to make this article look shiny.
I can stay in Uzbekistan longer than 30 days, how do I get a SIM card for longer than that time?
To keep your SIM card longer than 30 days, you'll need to register your phone. For this, you'll probably need to pawn your soul and give them a lock of hair.
Edited to add: you need to register your actual physical phone. For that, you'll need to know your IMEI number. Click here to read on the Ucell website about registering your phone. It is super vague, but you need to pay UZS 49.000 in 2021 as a kind of import tax.
If we come back to Uzbekistan for example next year and if we still have the same phones, we might have to register them directly.
I am entering Uzbekistan from Samarkand, is getting a SIM card in Samarkand the same?
Obviously, I don't have experience with this, but in Samarkand, there were huge ads for the tourist SIM card. It looked rather scammy to me. We did come across several Ucell and Beeline offices in Samarkand like the ones in Tashkent. My guess is that if you follow the correct steps from this article, you will end up with a nice and affordable SIM card for 30 days.
Uzbekistan Internet FAQ
Is the internet censored in Uzbekistan?
Sometimes. During our stay, there was a news announcement that Twitter would be blocked. Without a VPN, I still received notifications from the app (annoying), but I could indeed not open them.
Do non-Uzbek websites block traffic from Uzbekistan?
Yes, some of them do. It is very random; I'd google something, have a result that was someone else's travel blog, then click it and I couldn't read the article about Uzbekistan. With a VPN turned on it would suddenly work.
Should I have a VPN before going to Uzbekistan?
Absolutely. That is some solid travel planning. We use ExpressVPN and we're happy with it. If you want to try ExpressVPN for 30 days for free, you can sign up via this link. It's a referral link, so if you sign up I might, might, receive €8 from ExpressVPN for pointing you in their direction.
We usually put our VPN on Germany, the Netherlands, or another more famous country than Uzbekistan to make sure websites don't block our visit.
Useful info? Consider buying me a mors!
Bitcoin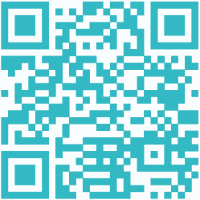 bc1q9a6w08a4gkx4gdvnh7w2vlkfzx4tlwfpfe6jm6
Open in wallet